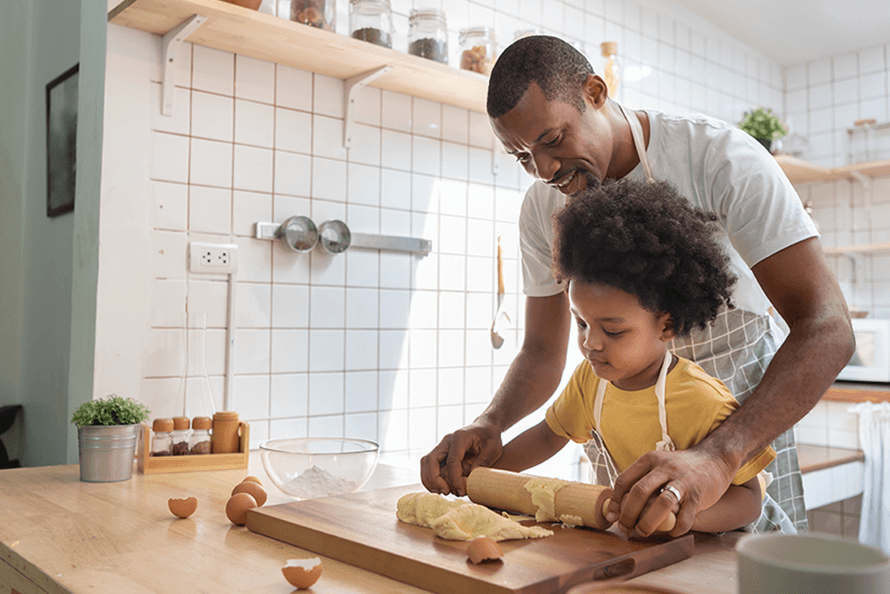 There are so many reasons to bake with your kids. Baking involves reading, measuring, math, following directions, collaboration, listening, and problem solving. Other cooking and baking benefits include establishing healthier eating habits, expanding your child's palate, and learning a valuable life skill. Plus, it's a great way to spend quality time together, make memories, and establish traditions.
It's no secret that most kids have short attention spans and a tendency to get messy. That's why when choosing baking recipe ideas for kids, it's best to stick with recipes that involve minimal prep time and easy-to-follow instructions. We recommend setting out everything you need before you get started, including ingredients, bowls, and measuring cups and spoons. And if at all possible, clean as you go! (We know that's easier said than done.)
Without further ado, here are our top nine favorite easy recipes for kids—so read on to get inspired!
1. Oatmeal Breakfast Bars
First on our list of baking recipe ideas for kids is Oatmeal Breakfast Bars. Made with peanut butter, banana, honey, and other wholesome ingredients, these soft-baked treats are loved by kids and adults alike. They're easy to grab on the way to work, school, or sports practice, and they'll keep you fueled for hours. Whether you serve them room temperature or warm, you'll have a big crowd pleaser on your hands.
2. Two Ingredient Cake
When it comes to easy cake recipes for kids, it literally doesn't get any easier than this two-ingredient cake. It's great when baking with a toddler since there's no measuring involved. All you will need is boxed yellow cake mix and a can of your favorite lemon-lime soda. The soda magically replaces the eggs, oil, and water that you would typically add to the cake mix—which is great if you're missing any of those ingredients at home. Combine the cake mix and soda and mix until smooth. Pour batter into a greased 9" x 13" cake pan and bake at 350 degrees for about 30 minutes, or until a toothpick comes out clean.
3. Simple Vanilla Cupcakes
While boxed cake mix is great, sometimes it's nice to teach your children how to bake from scratch. This simple baking recipe for vanilla cupcakes contains only basic ingredients in easy-to-measure amounts. The nice thing about easy baking recipes for beginners is that it leaves more time for the fun stuff—like decorating! For your child's next playdate, set up a cupcake decorating station with frosting, sprinkles, and other favorite toppings, like Welch's® Fruit Snacks. They're made with real fruit, contain no preservatives, and feature an excellent source of Vitamins A, C & E.
4. Greek Yogurt Fruit Bark
If you're looking for easy recipes for kids that don't require baking, try this one! Take a rimmed baking sheet and line it with parchment paper. Put about 3 cups of plain Greek yogurt in a bowl, then stir in ¼ cup of honey and a teaspoon of vanilla extract. Spread this mixture on your lined baking sheet and scatter sliced fruit on top, such as strawberries, blueberries, or raspberries. Freeze at least three hours until firm and break into pieces. If you like the taste of fruit and yogurt together, try Welch's® Fruit 'n Yogurt™ Snacks, made with real fruit surrounded by creamy yogurt. These easy treats for kids are an excellent source of Vitamins A & C, a good source of Vitamin D and Calcium, and contain no artificial flavors. 
5. Toddler Muffins
It can be a challenge to find healthy baking recipe ideas for kids that little ones will actually eat—especially if they're picky. These yummy Toddler Muffins feature wholewheat flour, shredded carrots, pumpkin puree, and unsweetened applesauce for a final result that is both delicious and nutritious. Plus, they freeze well so you can defrost and enjoy later. Engaging in healthy baking for kids is a great teachable moment that emphasizes the fact that better-for-you ingredients can still taste great.
6. Gluten-Free Brownies
Whether you're bringing in treats for a classroom party or providing goodies for a bake sale fundraiser, it's a good idea to look for school baking recipes that are allergy friendly. These gluten-free brownies are thick, chewy, and chocolatey. There is also a dairy-free option. If you're pressed for time, many major brands now make gluten-free boxed brownie mix that tastes very much like traditional varieties. For more gluten-free and dairy-free baking recipe ideas for kids, we recommend joining a social media group for allergy parents, which usually feature an abundance of baking ideas and recipes.
7. Peanut Butter Cookies
Is your kid a peanut butter fan? If so, these easy Peanut Butter Cookies will soon become a favorite. The recipe calls for basic ingredients and the instructions are easy to follow. Kids will get a kick out of rolling the dough into balls then pressing them down with a sugar-dipped fork to create a crisscross pattern.
8. Monkey Bread
Next on our list of baking recipe ideas for kids is Monkey Bread. This classic, pull-apart creation is made with refrigerated biscuits, butter, brown sugar, cinnamon, and other simple ingredients. The result is sweet, gooey, and fun to eat. Monkey Bread is one of those recipe ideas for baking that is semi-homemade, meaning you'll still get the fun of baking without having to buy a bunch of ingredients and start from scratch. It can be easily customized by adding raisins or chopped walnuts. Fun baking recipes like this one tend to get passed down from generation to generation.
9. Pizza Pinwheels
We've covered several fun baking ideas for kids that fall under the sweet category, so how about a savory recipe? Pizza pinwheels are a can't-miss snack that kids love to help with. All you need are refrigerated crescent rolls, marinara sauce, shredded mozzarella cheese, and any fillings of choice, such as pepperoni, mushrooms, or bell pepper. Spooning sauce and sprinkling cheese are perfect kid-friendly tasks. Simply follow these easy directions and get ready for rave reviews from kids and adults alike!
We hope you enjoyed our list of baking recipe ideas for kids! In addition to the sweet recipes you make, be sure to have everyday goodies on hand, like Welch's® Fruit Snacks. They're the perfect on-the-go treat!