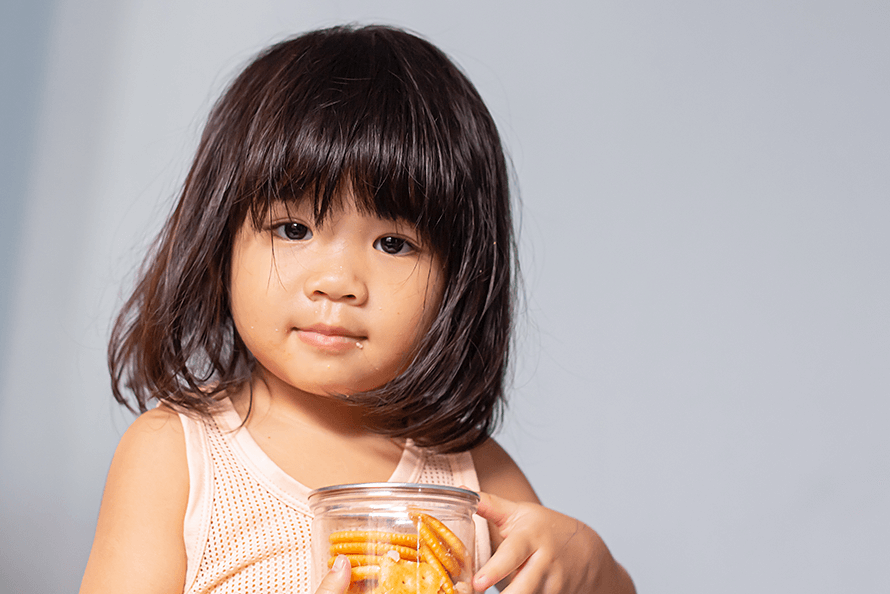 Do you have a child or family member who is living a gluten-free lifestyle? These days, you are likely to find an abundance of gluten free snack options on grocery store shelves. But even with an improvement in selection, gluten-intolerant kids can still sometimes feel left out at parties, sports practices, school events, or other snack-centric occasions. Or perhaps they get bored eating the same non-gluten snacks all the time. That's where we come in!
We've rounded up kid-friendly gluten free snack ideas and treats that are helpful to have on hand as you navigate gluten-free living with your child. Whether you're looking for celiac friendly snacks, affordable gluten free snacks, or are simply wondering: "What snacks are gluten free?"," we're here to help.
It's important to note that you should always check labels, refer to the manufacturer's website, and/or check with your doctor to ensure there are no gluten-containing ingredients in any of the items on this gluten free snacks list. With that, let's take a look at the best gluten free snacks for kids!
Best gluten free packaged snacks
One of the keys to living a gluten-free lifestyle is to always have your pantry stocked with gluten free snack options that you can grab as you're headed out the door. Some of the best gluten free packaged snacks you can find include:
Gluten-free pretzels
With so many brands on the market these days, gluten-free pretzels are one of the best gluten free snacks in terms of popularity and availability. They're perfect for when your child is in the mood for something a little salty and crunchy, and they're also fun to dip in peanut butter or melted cheese.
Gluten-free protein bars
Again, you'll find lots of options for gluten-free protein bars, energy bars, and nut bars on shelves today. They're ideal for car trips and can double as breakfast in a pinch—making them one of the best gluten free snacks for travel.
Welch's® Juicefuls® Juicy Fruit Snacks
Delicious Welch's® Juicefuls® are gluten free, non-GMO, and made without preservatives. With fruit as the first ingredient, they're an excellent source of Vitamins A, C, E and come individually packaged for those looking for convenient gluten free snacks on the go.
Potato chips
Many store bought potato chips are naturally gluten free, making them a great option for parties and sharing with allergy-free friends. And let's be honest—who doesn't like potato chips? We love it when snacks without gluten have universal appeal.
Beef jerky
Need a protein kick? Beef jerky products are often gluten free, though always check labels. They're easy to eat on the go, making them one of the best gluten free snacks for travel.
Gluten-free cereal
Cereal isn't just for breakfast! It makes a great anytime snack—especially if you're looking for healthy gluten free snacks your kids will love. Pour dry cereal in a cup or small bowl and let your child munch away while doing homework or watching TV. Or put in a small resealable container for on-the-go convenience.
Gluten-free crackers
Finding gluten-free crackers your child will love can take a little trial and error. There are lots of options out there—from rice crackers, to almond meal crackers, to cauliflower crackers, and beyond. No matter which favorite you land on, gluten free crackers are great snacks without gluten to have on hand.
Welch's® Fruit Snacks Reduced Sugar Fruit Snacks
Made with Real Fruit, Welch's® Fruit Snacks Reduced Sugar are gluten free and feature the same delicious flavors you get with Welch's® Fruit Snacks regular Mixed Fruit, with 25% less sugar. An excellent source of Vitamins A, C & E, they're one of the best gluten free snacks for families who value better-for-you options.
Yogurt
When it comes to refrigerated gluten free snack options, yogurt and yogurt-based drinks can be a good bet. While plain yogurt is naturally gluten free, sometimes flavorings and additives could contain gluten—so be sure to always check the label. Yogurt can also be used as a dipping sauce for fruit.
Best gluten free snacks to make with your kids
We love making easy and affordable gluten free snacks at home with our little ones. Cooking together is an opportunity to bond and educate kids about celiac friendly snacks and gluten-free ingredients. Follow these simple recipes together.
No-Flour Peanut Butter Cookies
With minimal ingredients and a wonderful, chewy texture, these no-flour peanut butter cookies are one of our favorite gluten free snack ideas. Plus, they couldn't be easier to make. You will need:
·         1 cup creamy peanut butter
·         1 cup firmly-packed light brown sugar
·         1 large egg, lightly beaten
·         1/2 teaspoon salt
·         1 tablespoon vanilla extract
Instructions: Preheat oven to 350°F. Combine all ingredients and mix until smooth. Scoop small balls of dough onto a parchment-lined baking sheet and flatten with fork in a crisscross pattern. Bake for 8 minutes and cool on wire rack.
Snack Mix
For this kid-approved snack mix, you will need a few different non-gluten snacks of choice. We like to combine sweet and salty items that offer different textures and tastes. Some options include gluten-free pretzels, cashews, dried banana chips, bite-sized rice crackers, and Welch's® Fruit Snacks to add a fun twist.
Combine all items in a large resealable container and keep it in the pantry or on the counter and portion it out into individual baggies for a grab-and-go treat.
Air Fryer Cinnamon Apple Chips
If you have leftover apples at home, try these healthy gluten free snacks. All you will need is a few apples of choice and ground cinnamon.
Preheat air fryer to 350°F. Slice apples thinly using a mandolin and remove any seeds. Place apple slices in a bowl and coat them with cinnamon. Put a single layer of apple slices in your air fryer basket and cook for 8-10 minutes, turning a couple times as needed.
Offering both crunch and chewiness, these yummy treats can be eaten on their own or broken up and mixed into yogurt or oatmeal.
We hope you enjoyed our gluten free snacks list. Remember: Always make sure you're prepared both at home and on the go with the best gluten free packaged snacks for kids.
Check out our full lineup of gluten free Welch's® Fruit Snacks and Welch's® Juicefuls® today!