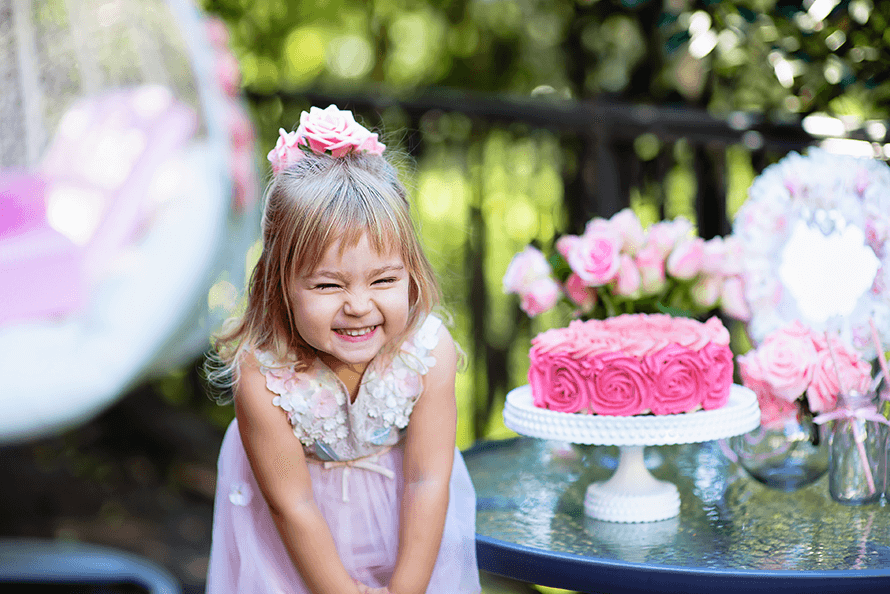 It's always fun to come up with kids birthday party themes that make lasting memories and inspire smiles all around. This list of kids party themes is organized by age so you can hone right in on a theme that's perfect for your child's growth stage. Ready to get your creative juices flowing? Let's party!
1st – 3rd Birthday Party Themes
Wild One
Let's start with one of our favorite 1st birthday party themes. A "Wild One" party is a fun play on words for a safari-inspired bash to celebrate your little monkey's first year of life. Decorate with green streamers and faux palm leaves. Add some yellow and brown balloons as accents. Place stuffed giraffes, elephants, and other "wild" animals throughout the space, which kids will inevitably play with. Send guests home with a mini animal plushie and little boxes of animal crackers. Lions and tigers and bears…oh my!
Berry First Birthday
Next on our list of kids birthday party themes is a "Berry First Birthday" bash. Like many 1st birthday party themes, this one features a cute play on words and lots of sweet touches. Decorate in shades of red and pink and use red and white polka dot paper plates and napkins. Serve strawberry lemonade in a punch bowl and add some fresh sliced strawberries for aesthetic appeal. Offer a range of berry-themed treats, such as strawberry ice cream, raspberry fruit bars, and blueberry parfait. For the cake, a strawberry shortcake is perfect, or any kind of cake featuring berry filling or preserves. For a goody bag treat that's right on theme, give guests individual pouches of Welch's® Fruit Snacks in Berries 'n Cherries or Strawberry—which are made with Real Fruit and are an excellent source of Vitamins A, C & E.
Alphabet Party
Many kids begin recognizing letters at around ages 2 or 3. That's why an alphabet party is one of our favorite 2nd birthday party themes or 3rd birthday themes. Create different activity stations with wooden alphabet blocks, ABC puzzles, coloring sheets, and magnetic letters for your refrigerator. Decorate with balloons that spell out A, B, C and have a grownup read Dr. Seuss's ABC book for story time. Serve a cake adorned with brightly colored fondant letters. For a take-home treat, give each kid a special cookie in the shape of their first initial. This is one of those unique birthday party themes for children that is equal parts educational and fun!
4th – 6th birthday party themes
Reach 4 the Stars
Many parents look for at-home kids party ideas that incorporate their child's interests. If your little one is into outer space, try this "Reach 4 the Stars" 4th birthday party theme. Stick planet cutouts on the walls and hang up with glittery star garland. Add some deep blue and silver metallic balloons. Hang up a star-covered plastic tablecloth for an easy, planetarium-inspired photo backdrop. For a craft idea, have each kid cut out a tinfoil moon with safety scissors and help them write their name on it. These can now become their place settings. For a truly out-of-this world cake, make (or order) a rocket-shaped creation that will send them over the moon. For less advanced bakers, make a regular sheet cake and decorate it with delicious Welch's® Fruit 'n Yogurt™ Snacks—which have the marbled appearance of planets. Send kids home with rock candy lollipops for a fun take on moon rocks.
Under the Sea
For a 5th birthday theme or 6th birthday party theme that is sure to deliver oceans of fun, consider throwing an "Under the Sea" party. This is one of the most popular birthday themes for good reason. It allows parents to get creative and make a big impact on a not-so-big budget. Decorate with balloons and streamers in different shades of blue, turquoise, and white, or try some DIY decorations for birthdays. Scatter seashells and plastic starfish on the party table. Look for paper goods that feature mermaids, seahorses, and/or sharks, depending on what your little one likes. Decorate their cake with "sand" from graham cracker crumbs. Fill goody bags with puka shell necklaces and a tropical-inspired treat, like Welch's® Juicefuls™ Juicy Fruit Snacks Island Splash—which are gluten free, non GMO, and an excellent source of Vitamins A, C & E.
7th – 10th birthday party themes
Cupcake Battle
Ages 7-8 is around the time that a lot of kids get into baking, so it's no surprise that parents look for party themes for children that incorporate this interest. A Cupcake Battle is a perfect 7th birthday theme or 8th birthday party theme for budding bakers. As kids arrive, hand each one an apron that can later become a take-home party favor. Bonus points if you personalize each apron with the guests' names. Divide the kids into two teams and have them compete in a cupcake decorating challenge. We recommend baking and cooling the cupcakes beforehand so kids can just focus on the decorating part. Put out different frostings and decorations, like sprinkles, sugar crystals, and Welch's® Fruit Snacks. Be sure to choose an impartial judge who can give out prizes for most creative, most colorful, and more. Enjoy the cupcakes when you sing happy birthday, but make sure there are extras that kids can take home to their families in to-go boxes. You've got to love birthday theme ideas that are yummy for parents, too.
Keep it Colorful
Once they reach ages 9-10, your child may not care as much about kids birthday party themes as they once did. (Insert tears from parents of big kids.) So instead of a formal 9th birthday party theme or 10th birthday party theme, consider keeping things simple with a party that incorporates your child's favorite colors and pastimes. Let them pick an activity they love—such as video games, ice skating, a dance party, or bowling—and request that everyone show up wearing the designated colors. You can also go for fun color combos like different shades of pink, black & white, or your kid's school colors. Then add matching paper goods, balloons, cake, and get creative with snack ideas. Sometimes the best party themes can be the simplest ones!
We hope you enjoyed our roundup of kids birthday party themes. To make any party more fun and delicious, stock up on Welch's® Fruit Snacks today. They're the perfect take-home treat!