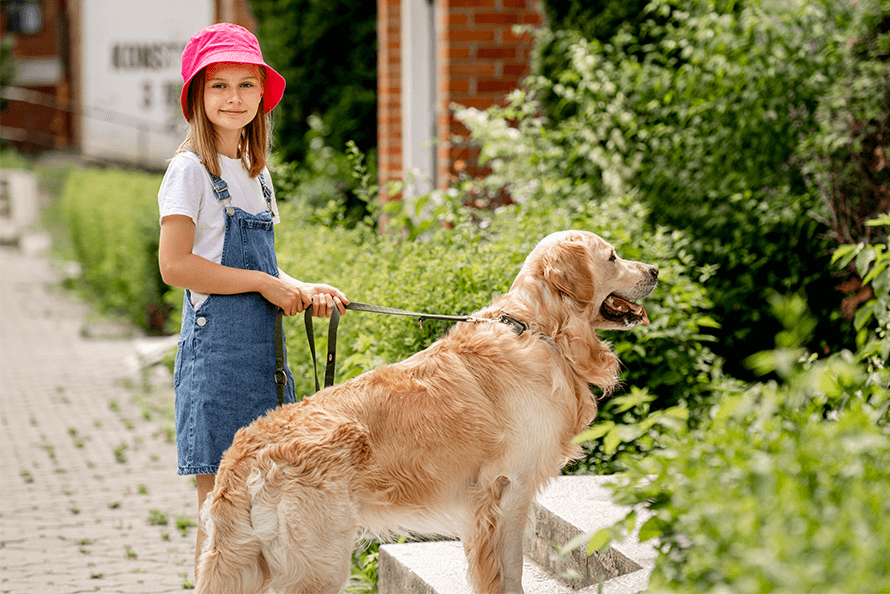 Today's business landscape is trending towards becoming more gig-based and entrepreneurial. Following suit with that, more and more educators are teaching entrepreneurship in elementary schools. To highlight how to start a business as a child, we put together this list of seven business ideas for kids below!
1. Dog Walking.
When it comes to kid owned businesses, a time-tested choice is dog walking. Many families work full-time and need someone to take their pooches out for a walk at some point before they get home from work. A good business for young entrepreneurs, dog walking is a great gig for animal lovers who have some free time directly after school and like to stay active. Popular dog walking apps require providers to be at least 18 years of age—so have your child advertise the good old-fashioned way by creating fliers and handing them out to neighbors. Make sure your child meets the dogs beforehand to feel comfortable and safe.
2. Pet Sitting.
Another little kids business for animal lovers is pet sitting. There are different levels of pet sitting depending on a customer's needs. Maybe it's as simple as going over to feed a neighbor's cat and change its water during the day. Or perhaps it's boarding a dog in your home for a week while a family is away on vacation. Pet sitting is one of those simple and smart business ideas that doesn't require overhead—and never goes out of style. Your kid will get a kick out of snapping pictures of the pet and sharing them with the owners as an update. Plus, for many kids, playing with and snuggling an adorable pet hardly feels like work!
3. Goody bags.
One of our favorite creative business ideas for kids is a goody bag business. Goody bags, also known as party favor bags, are a major staple at kids' birthday parties. But many parents find them time consuming to put together or don't want to include junk that kids won't use. That's where your little entrepreneur comes in! Kids have their finger on the pulse of treats and trinkets that other kids will like, and they'll get a kick out of shopping for items and assembling the bags. Plus, they can learn about the value of volume discounts by visiting a club store to buy universally loved snacks in bulk—such as Welch's® Fruit Snacks. Shopping around for the best price per unit is an excellent way to build business skills for children. You can also have them visit a dollar store for low-cost items like bubbles, fun pens, scrunchies, stickers, and more.
4. Gift Wrapping.
Some kid entrepreneur ideas are particularly well suited to the holiday season. Running a gift-wrapping service is a great way for kids to earn extra cash at a time when grownups are at their busiest. If your child is a skilled gift wrapper who enjoys the process, they can start by reaching out to relatives and friends to ask if they can use assistance with their holiday wrapping needs. Or they can design a simple flier or graphic for mom or dad to post on social media. A gift-wrapping service is one of those businesses kids can start with very little startup money. They can ask customers to supply their own wrapping supplies, or charge a bit more to include paper, tags, and bows. You can find free templates for business plans for kids online to help them figure out how to calculate profit margins.
5. Babysitting.
There are many simple and smart business ideas for kids, but when it comes to kid businesses that make money consistently, few options are as popular as babysitting. Many babysitters gain experience by caring for younger siblings or cousins, and then translating that experience into providing care for the children of neighbors, relatives, or family friends. More experienced or older sitters can consider going beyond word-of-mouth to promote their services to local families with the help of a parent. From occasional date night sitting to a daily after-school gig, babysitting is typically a good choice for responsible kids ages 12 and up. The American Red Cross offers babysitting classes that allow sitters to become certified in first aid and CPR.
6. Mother's Helper.
Similar to babysitting, being a Mother's Helper is a great gig for responsible older kids who like to care for younger children. Many moms of multiple kids need an extra set of hands even when they're present. As a mother's helper, your child can help with tasks like putting on coats and shoes on the way out the door, corralling kids at the park, or packing a bag for the beach with towels, sunscreen, and snacks (we recommend Welch's® Fruit 'n Yogurt Snacks!). Working as a mother's helper can be a great prelude to babysitting, as it serves as an introduction to basic childcare tasks.
7. T-shirt Designer.
Many of today's tech-savvy kids have a good eye for graphics and digital design. And with the advent of easy-to-use electronic cutting machines that are connected to apps, kids can customize vinyl cutouts for transfer to T-shirts, tote bags, makeup pouches, and more. One idea is to approach local little league clubs or soccer teams to sell them logo jerseys. Or perhaps they can customize matching tees for families who are planning a special birthday party, family reunion, or trip to the theme park. It's smart to buy T-shirts in large quantities online or at a craft store using a coupon. While white is always a good option, they can also offer school or team colors. For example, if the school colors are blue and yellow, they can use a yellow T-shirt and add blue lettering. This is another one of those creative business ideas for kids that helps them build an understanding of volume and profit.
We hope our list of business ideas for kids was helpful. We encourage you to share these ideas with any aspiring entrepreneur you know who is interested in how to start a business as a child. And who knows? Maybe with a little hard work, your child will land on a list of famous kid entrepreneurs with a million-dollar idea.
To keep your little entrepreneur smiling and ready to run a "fruitful" business, check out our full lineup of Welch's® Fruit Snacks today.