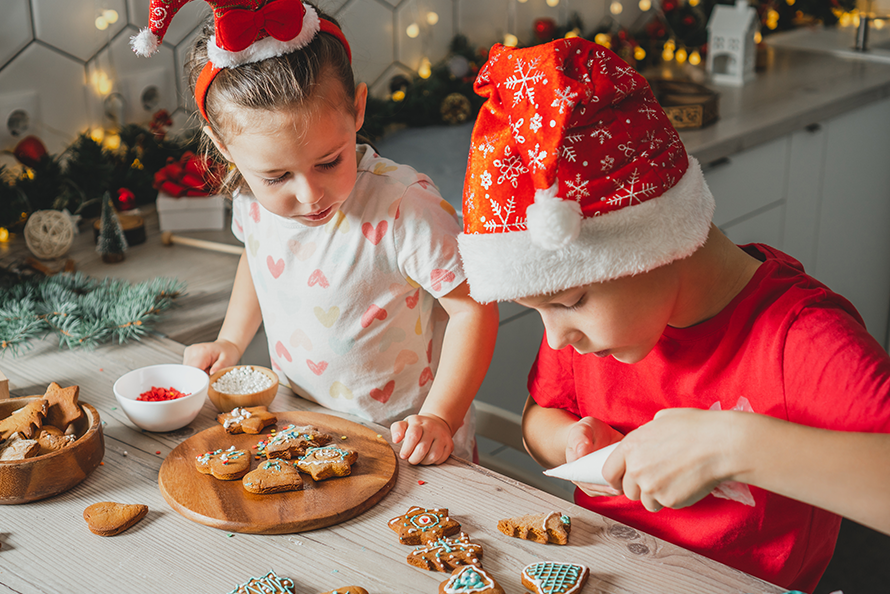 'Tis the season for festive treats. Whether you're entertaining family, hosting a holiday gathering for friends, or bringing the party to your child's classroom, we've got Christmas snack ideas and fun winter goodies that are sure to put you in the holiday spirit. So, let's spread some cheer!
1. Ice Cream Cone Tree
If you're looking for Christmas party snacks or treats that make a statement, look no further than an ice cream cone tree. Place a pointed ice cream cone face down on a plate so that it looks like a Christmas tree. A hard sugar cone will work best vs. a wafer cone. Take a can of vanilla frosting and tint it green with a few drops of food coloring. Using a butter knife or small spatula, spread the frosting evenly on the outside of the cone. Dot with small colorful candies for ornaments and use a Welch's® Fruit Snack for the tree topper. You can also try sugar crystals for shimmer or rainbow sprinkles to depict multicolored lights. To take the scene even further, add a "ground" surrounding the tree with crushed chocolate cookies.
2. Savory Snowman
Entertaining during the holidays can be stressful, so go for simple Christmas apps that still have the wow factor when you place them on the party table. Our savory snowman couldn't be easier. Take a wheel of brie and place it on the center of a festive plate. Press in two olives for the eyes, a baby carrot for the nose, a roasted red pepper strip for the mouth, and pepperoni slices for earmuffs, which you can connect with more roasted red pepper strips. Serve alongside crackers or place it at the center of a crudité platter with cucumbers and celery for guests who appreciate healthy Christmas snacks.
3. Rudolph Cups
Easy Christmas snacks can still be adorable. For this festive treat, you'll need a snack size cup of applesauce or pudding, both of which are available in lower-sugar varieties if you prefer. You'll also need a mini hot glue gun, gold pipe cleaners for antlers, a red pom-pom for the nose, and a pair of stick-on googly eyes. Flip your unopened snack cup upside down and use your hot glue gun to affix the googly eyes and pom-pom nose. Cut the gold pipe cleaner in half, shape into two antlers, and glue them to the back of the container. Voila—you've got yourself a Rudolph! Make a bunch of these Christmas themed snacks for your child's classroom party and sign each one with your child's name and a fun message, like: "Another day, another sleigh. Happy Xmas!" Snacks like these are always memorable.
4. Christmas Tree Snack Board
It's always fun to come up with Christmas appetizers that truly make a statement. Bonus points if they fall under the category of healthy Christmas snacks. A Christmas tree snack board or charcuterie board is a popular idea for holiday parties that kids love to help with. Simply arrange cheese, crackers, and other bite-sized savory items on a tray or wooden board in the triangular shape of a Christmas tree. Start with square-shaped crackers for the wide base, then a row of cheese squares, a row of salami slices, a row of olives, a row of pecans, and so forth. You can also do a non-savory version of the snack board with cookies, strawberries, and kid-friendly treats, like Welch's® reduced sugar fruit snacks. Choose whichever ingredients you'd like for this show-stopping centerpiece.
5. Magical Reindeer Food
Bags of reindeer food make great Christmas snacks for classroom parties. The idea is to sprinkle this sparkly mixture on your lawn on Christmas eve to attract Rudolph and his friends. This version happens to be safe for human consumption, too. Simply combine oats, sprinkles, and edible glitter in a bowl, and portion out the mixture into individual clear plastic baggies. Add a label with instructions on how to use it and pass out each bag to each friend. This one is a true memory maker that little ones love.
6. Better-for-You Gingerbread House
Gingerbread houses are one of those traditional Christmas treats that never go out of style. When decorating gingerbread houses with little kids, you can expect a lot of the candy to get consumed as you go. For a less sugary alternative, make some smart swaps that kids will still love, such as shredded coconut for snow, pretzel sticks for window frames, a popcorn walkway, and Welch's® reduced sugar fruit snacks in place of gum drops. Yes, low sugar Christmas snacks can still be kid friendly! Pro tip: We highly recommend opting for a pre-built gingerbread house vs. a kit that requires you to assemble the walls, especially if there are toddlers involved. Trust us on this one.
Celebrating Hanukkah or Kwanzaa? Check out these fun ideas that will soon become a favorite tradition to make with your kids.
7. Marshmallow Dreidels
These Hanukkah dreidel treats are adorable and easy to make. Coat the surface of a marshmallow with a thin layer of white frosting, then roll the marshmallow in blue sugar sprinkles. For the handle of the dreidel, take a small pretzel stick, break it in half, and insert the broken end into the marshmallow. Next, use white frosting to glue a chocolate kiss on top to create a "spinner." These goodies are a definite kid favorite.
8. Kwanzaa Flag Tray
Kwanzaa is a celebration of African American culture that runs each year from December 26-January 1, concluding in a communal feast called Karamu. The colors of the Kwanzaa flag are black, red, and green. To make this flag tray for a Kwanzaa celebration, take a wooden board and create three horizontal stripes with bite-sized foods, with red on the top, black in the middle, and green on the bottom. For a savory version, try using cherry tomatoes, black olives, and green bell pepper. For a sweet version, try red Welch's® Fruit Snacks, black licorice bites, and green jelly beans or gumdrops.
For more holiday treats and Christmas snack ideas, take a look at our lineup of Welch's® Fruit Snacks today. Or check out Welch's® Holiday Fruit Snacks at Walmart!