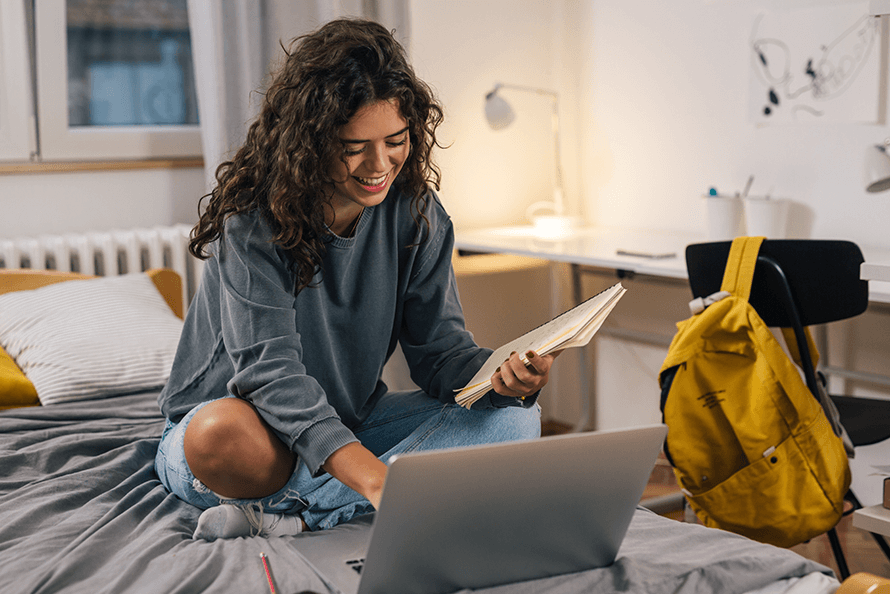 It seems like just yesterday you were sending your child off to kindergarten, and now they're in college! While being an empty nester is hard, you may be surprised to learn that your college student is missing you just as much as you're missing them. One of the best ways to make them feel right at home in their dorm is to send them a care package filled with thoughtful items they'll love.
Whether you're making a college freshman care package for the first time or are looking for new ideas for your junior or senior, we've put together college care package ideas that are sure to make the grade. So, let's get started!
What to Put in a College Care Package
While there are many services available that offer premade college care packages, DIY is the way to go. Why? The best college care packages are the ones that feel the most personal. And no one knows your student better than you. To help you on the journey, here are some of our favorite themed packages.
Taste of Home Care Package
Is your student feeling nostalgic for home? That's incredibly common, especially among new college students. Bring a taste of home to their dorm room with a care package filled with comforting items like a framed family photo, homemade cookies, a local sports team hat, and a thoughtful handwritten note. Little gestures like this will go a long way in making them feel loved and supported no matter how many miles are between you.
Healthy College Care Package
Dining hall food isn't always the most nutritious. Not to mention those late-night pizza deliveries and endless coffee runs. To offset less-than-stellar food choices, send your student a healthy college care package filled with protein-packed and nutrient-dense snacks. Think energy bars, granola, nuts, turkey jerky, and instant oatmeal. Instead of candy when they're craving something sweet, add a better-for-you option like Welch's® Reduced Sugar Fruit Snacks. The Mixed Fruit Reduced Sugar variety features the same delicious flavors you get with Welch's® Fruit Snacks regular Mixed Fruit, with 25% less sugar.
Dorm Room Care Package
Help your student spruce up their living space with a care package designed to elevate the look and feel of their dorm room. Include aesthetically pleasing items that will help their room feel less sterile, like a throw pillow, a string of twinkle lights, a macramé wall hanging, or a faux plant. Another spin on this idea is to include items to help streamline their space, such as a desk organizer, a shoe bag, or a phone charging station.
Change-of-Seasons Care Package
As seasons change, so do the items we use every day. If your student is located somewhere that has cold winters, pack up gloves, a hat, a scarf, hot chocolate packets, and a holiday scented plug-in or candle. Is spring on the horizon? Send a compact umbrella for those April showers, plus sunglasses and sunscreen for sunnier days.
College Care Packages for Him
Are you a #boymom? When making college care packages for guys, consider including a few practical everyday items like new boxers, a package of T-shirts, and a few pairs of fresh socks. While these items may not be the most exciting, your son will appreciate being stocked up on essentials that he may forget to buy for himself.
College Care Packages for Her
When it comes to college care packages for girls, we like the idea of helping her create a spa-like experience for those times when she needs to feel pampered. This is also a great option for a college finals care package to help ease the stress of exams. To build a spa-themed dorm room care package, include an essential oil diffuser, a mud mask, under-eye patches, a body scrub, a loofah sponge, and her favorite scented lotion. Nest all items in a cute shower caddy to stay on theme.
College Care Packages for Groups
Care packages for college students don't have to be limited to your kid only. In fact, many students get a kick out of their parents thinking about their roommates and friends with a surprise dorm room care package that's suitable for a group. Putting together a box filled with snacks and simple activities is a thoughtful way to recognize the friendships that are being formed. And as a bonus, it'll make you the most popular parent on campus. Want to know what to put in a college care package for groups? Read on.
Movie Night Care Package
First on our list of group care packages for students in dorms is a movie night care package. The idea is to make it easy for your college student to host a dorm-style movie night or a binge-watching session with their crew. Supply microwave popcorn, mini popcorn containers, and different flavors of sprinkle-on popcorn seasoning (cheddar, ranch, caramel, etc.). Other movie night college care package ideas? A fuzzy blanket, different Welch's® fruit snack varieties, and candy in movie theater-style boxes.
Game Night Care Package
One of our favorite ideas for care packages is a game night box filled with old-school board games such as Boggle, Uno, Monopoly, Scrabble, and more. This is a great way to get college students off their phones (for once) or give them something different to do on a rainy day. Throw in some score pads, pencils, snacks, and silly/inexpensive prizes for the winners that you can grab at the dollar store, like novelty socks or hair scrunchies.
Sports Fan Care Package
Next on our list of student care packages for groups is a sports fan box. This one is great if there's a big game coming up that will have the whole dorm glued to the TV. Since sports and snacks go hand in hand, include tortilla chips, jarred salsa, cookies, Welch's® Fruit Snacks, and other fun treats. Consider adding stat sheets or fantasy draft boards for those who are interested in keeping track of gameplay. Finally, throw in a few items in the colors of the team they're rooting for, such as plastic cups, paper plates, or mini pompoms.
And there you have it! Here's to a wonderful year of college for your favorite student. For more care package snack ideas, check out our full lineup of Welch's® Fruit Snacks today.