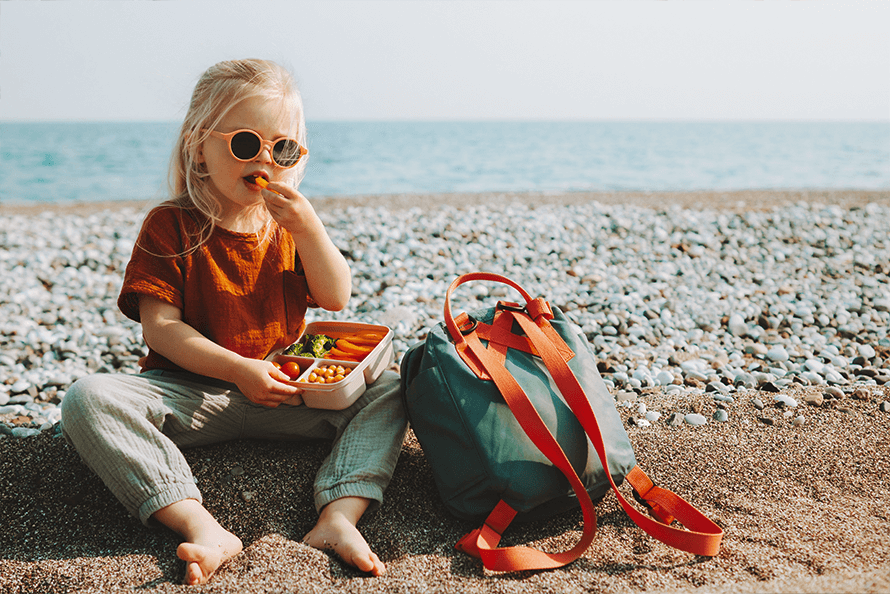 Does your child have a dairy allergy or a dairy sensitivity? It's one of the most common allergies in children, affecting as many as two in every 100 children under four years old. Many children outgrow it, but in the meantime, it's helpful to compile a list of yummy dairy free snacks for kids!
Some kids are allergic to casein—a protein found in milk—while others are lactose intolerant. What is lactose intolerance? This fairly common condition occurs when your child's body is unable to digest lactose, a sugar found in milk and dairy products. Symptoms include diarrhea, nausea, gas, stomach cramps, and bloating—typically occurring between 30 minutes and two hours after ingesting dairy.
If you know or suspect that child is allergic to dairy or lactose intolerant, check out our top ten list of dairy free snacks for kids below.
1. Banana "Ice Cream"
In search of dairy free desserts or lactose intolerant children's treats? Try this super-easy banana "ice cream." OK, it's not actually ice cream, but it's a creamy, sweet, and delicious substitute that couldn't be easier to make. Start with ripe bananas, cut into small slices or chunks, and freeze in a freezer bag for a few hours. Toss in a food processor and blend until smooth. To help achieve a creamy consistency, you can add a splash of dairy free or non-dairy milk, but it's not necessary. We like to play around by adding mix-ins like peanut butter, honey, or cinnamon.
2. Air Fryer Chickpeas
When looking for dairy free foods for children, chickpeas are an excellent choice. They're packed with protein, fiber, vitamins, and minerals. Plus, they're naturally dairy free and gluten free. For a tasty and crunchy snack that's both healthy and delicious, try air fryer chickpeas. Preheat your air fryer to 375 degrees. Drain and rinse a large can of chickpeas and pat dry with paper towels. Toss with olive oil, salt, and your seasonings of choice, such as garlic powder, onion powder, paprika, turmeric or cumin. Place in your air fryer basket and cook for about 12-15 minutes until crispy.
3. Welch's® Fruit Snacks
Welch's® Fruit Snacks are made with Real Fruit, offering a mouth-watering taste the whole family will love. Available in multiple flavors, these dairy and gluten free snacks are an excellent source of Vitamins A, C & E, and contain no preservatives. And because they're individually packaged for lunch boxes, Welch's® Fruit Snacks are the perfect dairy free treats for school.
4. Dairy Free Yogurt
Dairy free yogurt is an excellent option for a lactose intolerant toddler diet. There are now so many brands and varieties on the market, including yogurt made with coconut milk, soymilk, oat milk, and more. Store-bought brands have come a long way in terms of taste and texture—or you can make your own in a yogurt maker machine or pressure cooker. You can also use yogurt as an ingredient in dairy free desserts or other dairy free foods for children, such as muffins, crepes, curry sauce, and more.
5. Applesauce
Whether you buy it from the grocery store or make your own at home, applesauce is one of the most popular dairy free snacks for kids and toddlers. It's also a great "first food" when introducing solids to babies—not to mention the perfect thing to make when trying to use up the apples you picked on that family trip to the apple orchard. To make your own applesauce, peel, core, and quarter about 4 pounds of apples. Places the apples in a pot with 1 cup of water, 3 tablespoons of lemon juice, a half-cup of sugar, a half-teaspoon ground cinnamon, and a half-teaspoon of salt. Bring to a boil on high heat, then cover and simmer on low for about 20 minutes or until tender. Use a potato masher or stick blender to blend to your preferred consistency.
6. Welch's® Fruit Rolls
Next on our list of dairy free snacks for kids Welch's® Fruit Rolls! Made with Real Fruit, these delicious dairy free child snacks feature an excellent source of Vitamins A, C & E and No Preservatives. Try them in Berry, White Grape Strawberry, or Tropical Punch.
7. Peanut Butter Dippers
We find that kids love any type of DIY snack that they can "build" on their own. When looking for dairy free snacks for kids and toddlers, you can't go wrong with peanut butter dippers! Simply put peanut butter in a small cup and serve it alongside dippable dairy free kids foods, like sliced apples, cut-up celery, crackers, and baby carrots. This is a great snack to enjoy while watching TV or a movie. If you'll child is peanut-free, try sunflower butter or another option like hummus or guacamole.
8. Snack Bars
From protein bars to granola bars to energy bars, there's a huge range of snack bars on the market. Some and dairy free and some are not, so it's important to always check the ingredients against a reliable dairy allergy food list. Tip: To find dairy free bars, look for options labeled vegan.
9. Sweet Potato Chips
Continuing our list of dairy free kids foods and snacks, we have sweet potato chips! They're a savory-meets-sweet delight with the perfect amount of crunch. There are some great store-bought options, but they're also easy to make on your own. Simply preheat your oven to 400 degrees and line a baking sheet with parchment paper. Cut your sweet potato into 1/8-inch slices with a very sharp knife. (This step is for parents only!). Next, toss sweet potato slices in a bowl with olive oil until lightly coated, and then sprinkle with salt. Place in a single layer on your baking sheet and bake for about 20-25 minutes, flipping once.
10. Snack Mix
It's fun to find dairy free snacks for kids that little ones can help make. This one is completely customizable and so easy to throw together! Simply grab a large resealable container and add a few different bite-sized snacks, such as pretzels, raisins, almonds, cereal, dried apple chips, popcorn, and more. Just make sure nothing is on a dairy allergy food list and you're good to go. Portion out into individual baggies or containers for on-the-go convenience.
Speaking of convenience, be sure to check out our full lineup of Welch's® Fruit Snacks—the easiest grab-and-go treat for a dairy free lifestyle!