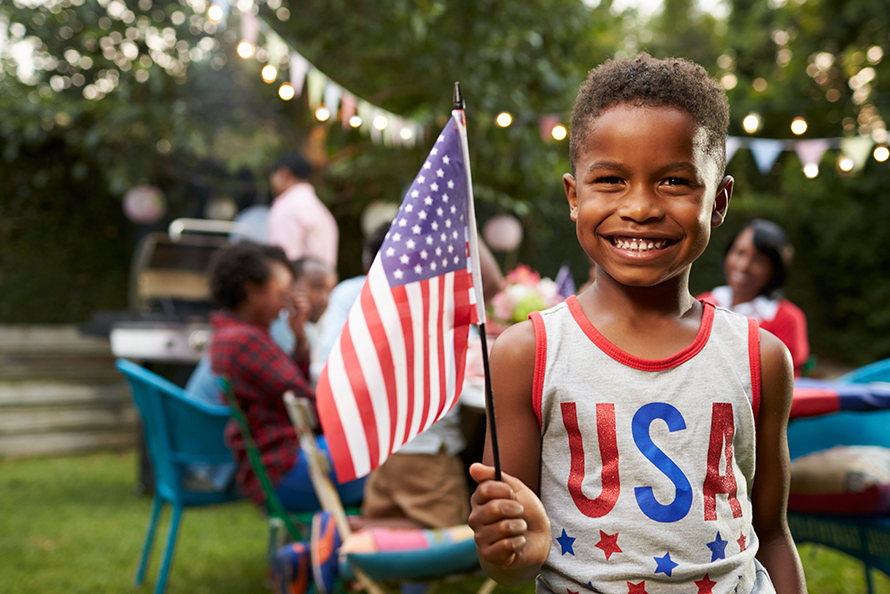 The Fourth of July is almost here, and that means it's time to start planning your annual celebration. We're here to help with 15 Fourth of July snack ideas that are easy, festive, and fun. Cue the fireworks!
1. Chips & Dip
You can't have a Fourth of July party—or any party for that matter—without chips & dip. That's why we're kicking off our list of July 4th snacks with this twist on a classic. Turn chips & dip into snacks for Independence Day by using blue corn chips instead of regular tortilla chips. Serve alongside salsa (red) and onion dip (white) for the ultimate red, white, and blue appetizer.
2. Red, White & Blue Ice Cream Sandwiches
Here's an easy way to turn store-bought ice cream sandwiches into patriotic snacks for kids. Simply dip the vanilla edges of the ice cream sandwiches in red and blue sprinkles, then freeze to let sprinkles set. These kid-friendly 4th of July desserts never disappoint, especially on a hot day.
3. American Flag Cake
Next, we have one of our favorite Independence Day ideas. Start with a vanilla-frosted sheet cake and turn it into an American flag using delicious Welch's® Fruit Snacks in Mixed Fruit. Create red horizontal stripes using strawberry or raspberry fruit snacks, then use blue chocolate coated candies to create the blue star portion of the flag in the upper left-hand corner. Made with real fruit, these mouthwatering, allergen-free snacks contain no preservatives and are an excellent source of Vitamins A, C & E.
4. American Flag Charcuterie Board
You can also try making a savory version of the above for your next Fourth of July party. Take a serving tray and create red stripes with pepperoni and white stripes with any type of white cheese (Swiss, fresh mozzarella, white cheddar, etc.). Use blueberries for the upper left-hand corner.
5. Watermelon Stars
For easy July 4th snacks that are also healthy, try these watermelon stars. Simply take a sheet of watermelon and use a star-shaped metal cookie cutter to cut out watermelon stars. Arrange on a platter for a fun and nutritious 4th of July themed snacks.
6. Fruit Skewers
Speaking of fruit, patriotic fruit skewers are popular for good reason. They're quick to make and look great on the table. Simply take a wooden skewer and thread it with alternating cut-up fruit, like strawberries, banana slices, and blueberries. You can make these July 4th snacks with raspberries, cherries, marshmallows, pound cake cubes, blackberries, or any other red, white & blue treats of your choosing.
7. Dipped Strawberries
Continuing our list of Fourth of July snacks, we have dipped strawberries. These always look so festive on the table. Dip strawberries in melted white chocolate, then roll in red and blue sugar crystals. We like to dip some strawberries in milk chocolate or dark chocolate too, for the classic chocoholics in attendance.
8. Dipped Marshmallows
Similar to dipped strawberries, these July 4th snacks are fun and easy to make. Add red food coloring to melted white chocolate to tint it red. Dip marshmallows so they're half red and half white. Add blue sprinkles for a finishing touch.
9. Pudding Parfaits
For these 4th of July desserts, simply take a clear plastic disposable cup and fill with vanilla pudding or vanilla yogurt. Garnish with fresh berries, such as raspberries and blueberries. So simple!
10. Patriotic Treat Board
Next on our list of festive fourth of July food is what we like to call a treat board. What does that entail? Take a large wooden board or serving tray and fill it with a bunch of red, white & blue 4th of July treats and snacks.  For red: Welch's® Fruit Snacks in Strawberry; For white: Welch's® Fruit 'n Yogurt™ Snacks; For blue: Blue chocolate coated candies. We love Fourth of July snacks and desserts that make a statement!
11. Star-Spangled Treat Mix
With a few tweaks and additions, you can also serve the above in a large bowl as a sweet snack mix. Combine white chocolate covered pretzels, blue coated chocolate candies, red Welch's® Juicefuls® Juicy Fruit Snacks for a festive treat.
12. Pigs in a Blanket
Nothing says America like hot dogs. Next on our list of snacks for 4th of July is pigs in a blanket. All you will need: 48 cocktail-size hotdogs and two cans of refrigerated crescent rolls. Separate the crescent rolls into 16 triangles, then cut each triangle lengthwise into three narrow triangles.
Place your cocktail hotdog at the base of your triangle and roll up towards the pointed side. Place on an ungreased cookie sheet and bake in a 375-degree oven for 12-15 minutes, or until warm and golden. These July 4th snacks are always a hit.
13. Ranch "Fire Crackers"
These no-bake July 4th snacks are so easy to make. The idea is to turn a regular box of saltine crackers into a savory delight. Place four sleeves of saltine crackers in a large container. In a separate bowl mix together a packet of ranch seasoning, a tablespoon of red pepper flakes, and 1 ½ cups of canola oil. Pour the mixture over crackers, put the lid on your container and shake gently to coat (do this every few minutes for about 20 minutes). Serve once crackers are dry and set.
14. Red, White & Blue Ice Pops
When it comes to tried-and-true July 4th snacks to celebrate Independence Day, here's an easy one: Red, white & blue ice pops! They're inexpensive, universally loved, and the perfect refreshment for a hot summer day that requires zero work on your part.
15. Marshmallow Squares
Turn regular marshmallow squares into patriotic snacks. First, make marshmallow and rice cereal treats according to package directions. Next, drizzle them with melted white chocolate and decorate with red and blue sprinkles. Feeling even more creative? Use a star-shaped cookie cutter to cut each bar into a star shape before decorating.
That concludes our roundup of July 4th snacks. Whether you're having a small gathering with family or hosting a Fourth of July party with friends, Welch's® Fruit Snacks are the perfect way to add patriotic flair to your celebration. Be sure to check out our full lineup today!