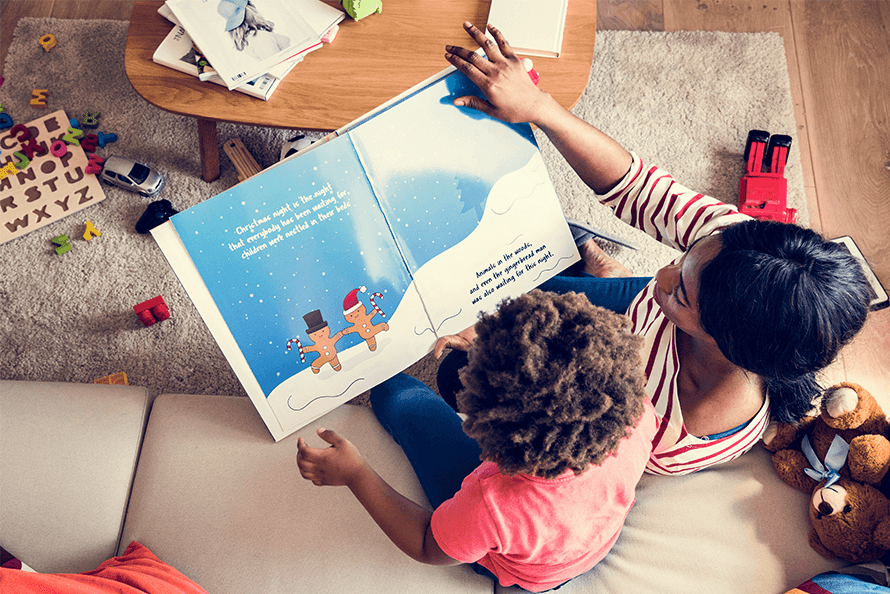 It's raining, it's pouring…and your kids say it's boring! Well, have no fear. We're here to help you entertain your little ones with eight awesome rainy day activities for kids.
1. Make Chores Fun
We love activities for children on rainy days that allow us to kill two birds with one stone—and this one is brilliant! The idea is to keep kids busy and get your household chores done at the same time. Play "laundromat" and show kids how to sort, fold, and use the washer and dryer. You can even pretend to use coins to operate the machine. Challenge kids to pick up their toys quickly by setting a timer and seeing if they can beat the clock. Pretend you're doing a cooking show and let your kid act as your sous chef as you make dinner, giving them simple tasks such as washing ingredients or tearing up lettuce for a salad. The best rainy day activities and indoor kids activities are ones that are also productive!
2. Play Grocery Store
Next on our list of rainy day activities for kids is running a pretend grocery store. This activity is one of those fun things to do inside that never goes out of style. It's also a great way to teach kids about recycling by using empty boxes of cereal, fruit snacks, pasta, and more. Set up shop by lining up items in categories, just like a regular grocery store. Make a little produce section with plastic fruits and veggies. If you don't have those, real produce will work, too. Let your child pretend to scan the items at a register and bag them. Then switch off and let your child play shopper using pretend money. Playing "grocery store" also provides many teachable moments for little ones.
3. Give Toys a Bath
If you need another idea for what to do on a rainy day with children, we've got you covered with some good, clean fun. Gather up your child's dolls and action figures that are looking a little grimy. Fill your tub with warm, soapy water and lay down a few towels on the floor (trust us on this one). Let your little one use a washcloth to gently clean their toys, and then use a little baby shampoo to wash their hair. Then comes the drying, the combing, and the dressing, which kids always love. This is sure to become one of those fun activities for rainy days they will remember when they're older.
4. Have a Movie Marathon
If you're looking for simple things to do on a rainy day, it goes without saying that a movie day always fits the bill. However, there are a few ways to make popular indoor activities like this one extra special. Darken the room as much as you can and scatter blankets, pillows, and oversize plushies on the floor. Choose movie titles that fit within a theme, such as movies about animals, holiday movies, or superhero flicks. Serve movie theater-style candy and put popcorn in individual popcorn boxes, just like at the theater. Or upgrade your popcorn by mixing it with Welch's Fruit Snacks® to create a salty-meets-sweet flavor combination kids will love.
5. Play Board Games
When we think about tried-and-true bad weather activities, we immediately think of playing board games. And while there are many new games out there to choose from, it's hard to beat the nostalgia of classic board games like Monopoly, Trivial Pursuit, Scrabble, Trouble, or The Game of Life. If it's only you and your child, try a two-person game like checkers, Candy Land, or Connect 4. Don't have any board games or other indoor kids games at home? Look for a deck of cards and play Go Fish, Old Maid, or War. Or get even more creative by making up your own board game using household items like gift box lids, index cards, and bottle caps for game pieces. Wondering how to keep a child busy even longer? Suggest that they color the gameboard or decorate the backs of the cards to take up some extra time.
6. Hit the Library
Despite bad weather, sometimes you need to curb cabin fever and get out of the house. But where to go on a rainy day? There's no better place than your local library. Libraries often offer free indoor kids activities like story time, crafts, special programs, and more. And let's not forget the endless shelves of books to explore and check out, from picture books and easy-readers for little ones, to chapter books for big kids, to novels and nonfiction books for parents. Everyone in the family will be able to cozy up with a book at home—one of the best rainy day activities of all!
7. Learn a New Skill Online
If the weather's too bad to leave the house, you can always opt for virtual activities for kids that are still educational, such as e-books, online games, or video tutorials that teach a new skill. There's so much free video content out there to help your kid try something new, from karate, to dance, to science experiments, to illustration, and more. You can also look for online rainy day activities for kids that are held in real-time, such as cooking classes, instrument lessons, coding, and more.
8. Make Some Music
Still wondering what to do on a rainy day with kids? How about starting a band? Whether you have toy instruments on hand or use household items like pots, pans, and wooden spoons, kids will get a kick out of pretending they're rockstars. Have them use a hairbrush as a microphone and dress the part by donning band tees, ripped jeans, bandanas, and feather boas. Set up a "stage," and let their stuffed animals be adoring fans. To save your eardrums, turn on some tunes and suggest they play "air band" by lip syncing to the music and pretending to play their instruments. You can even make a music video!
We hope you found some fun things to do inside with our list of rainy day activities for kids. Don't forget to take a look at our lineup of Welch's Fruit Snacks® to make rainy days even brighter!