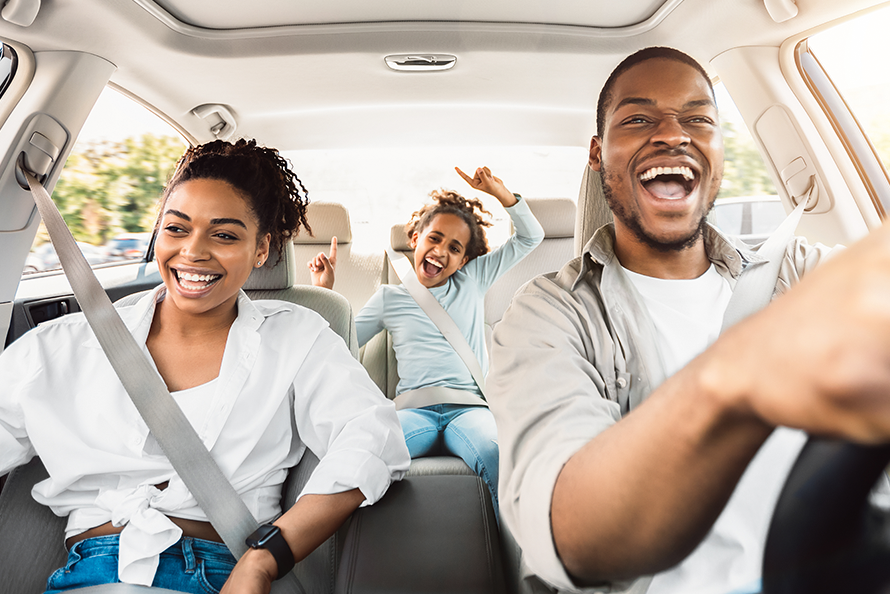 With the promise of open roads and endless adventures, a good old-fashioned road trip is a rite of passage for many families. But being cooped up in a car with kids for hours on end can result in a familiar refrain: "Are we there yet?"
To make your next road trip experience as pleasant as possible, check out this handy roundup of the best road trip snacks, tips, and activities. Whether you're going across state lines or across the country, these ideas are sure to keep everyone fed, entertained, and smiling. Happy trails!
10 Top Road Trip Snacks
Let's start with an essential topic when dealing with kids: Snacks! Here are 10 road trip snacks for kids to put on your must-buy list.
1. Whole fruit: You can't go wrong with nature's candy! Minimize prep by opting for handheld fruit like apples, bananas, and pears.
2. Baked chips: They offer a satisfying crunch and just the right amount of saltiness without the extra fat.
3. Welch's® Fruit Snacks: Made with Real Fruit and delivering the delicious taste the whole family loves, they're an excellent source of Vitamins A, C & E.
4. Popcorn: It's not just for the movies! Popcorn is a better-for-you snack that's fun to eat.
5. String cheese: What's not to like about this protein-packed, fun-to-peel favorite?
6. Welch's® Juicefuls® Juicy Fruit Snacks: These fruit snacks with juice inside are an excellent source of Vitamins A, C, E as well as gluten free, non-GMO, and made without preservatives. Plus they're always fun to eat and share!
7. Trail Mix: You can buy it pre-made or customize it to your liking by adding your own combination of ingredients like granola, raisins, slivered almonds, chocolate chips, and more.
8. Nuts: Packed with protein and healthy fats, nuts are a great way to stave off hunger.
9. Protein bars: These handy and filling snacks come in a wide variety of brands and flavors so that every family member can find their favorite.
10. Welch's® Fruit 'n Yogurt™ Snacks: A delicious yogurt covered snack made with Real Fruit surrounded by Creamy Yogurt. A good source of calcium and Vitamin D, this better-for-you snack is available in yummy varieties like Strawberry, Blueberry-Acai and Mango-Peach.
Road Snack "Rules" to Live By
Non-refrigerated snacks are often the best road trip snacks. Don't have room for a cooler or would rather not deal with the hassle of bringing one? Pack items like pretzel sticks, trail mix, and Welch's® Fruit Snacks. To keep drinks cold, use insulated water bottles or start with half-frozen drinks that can slowly defrost.
Fuel up with healthy road trip snacks. When picking out car snacks for trips, don't forget nutritious items from our list above, including whole fruit, nuts, or protein bars.
Curb the crumbs with no-mess snacks for toddlers. We all know that young kids are adorable-yet-messy little creatures. When it comes to snacks for toddlers in the car, avoid items like crackers and dried cereal, which can leave you vacuuming up crumbs for days. If you do go that route, use a no-spill snack cup to contain the chaos.
Essential Road Trip Tips
Now that we've given you plenty of road trip snack ideas, let's look at a few other ways to make traveling with kids a little easier and more fun:
Curate a Playlist: Put together a playlist of fun tunes to keep spirits up. Stay on theme with songs like "Born to Run," "Life is a Highway," and "On the Road Again."
Enjoy Storytime. Audiobooks can be a secret weapon. They're educational, entertaining, and a great way to pass time. Look for titles that adults will likely enjoy, too, such as Harry Potter, Charlotte's Web, or The Phantom Tollbooth.
Take a Break: Although many families try to pack meals to save money, spending time at rest stops is inevitable. After using the facilities and stretching your legs, engage in simple physical activities to break up the trip and shake off that cabin fever. Have an impromptu parking lot dance party or find a grassy area where you can toss a Frisbee.
Play Some Car Games: Classic road trip games are classic for good reason. They spark competitiveness, inspire laughs, and pass the time on those long stretches of highway. Here are some time-tested favorites:
I Spy. A player "spies" an item that everyone in the car can see and tries to get the other players to guess what it is. The player begins by saying, "I spy with my little eye, something that is…"—and then they give a hint, such as "Something that is blue" or "Something that is alive." The first player who guesses it correctly takes the next turn. Make sure you spy something that will stay in everyone's line of sight for a while!
The License Plate Game: Players try to find license plates from every state. Keep a running list of states and check them off as you go. You can play as a collective group or compete against other family members. Fun Tip: share some Welch's® Fruit Snacks every time you find a new state.
"A" My Name is. Players take turns going through the alphabet and coming up with a name, a place, and an object that starts with their letter. For example, the first player would start with A and say: "A my name is Anna and I live in Alabama and I like to sell Apples." The next person would do B, i.e. "B my name is Bert and I live in Bermuda and I like to sell Baseballs." And so on!
Offer a Bag of Tricks: Kids can't resist the lure of something new and different. Surprise them with a bag filled with unexpected goodies such as stickers, toy cars, and fun road trip snacks they may not have tried before, like Welch's® Fruit 'n Yogurt™ Snacks.
Bring Less Obvious Items: Some travel items are no-brainers, like electronic devices, chargers, and road trip snacks. Other items are helpful but not so obvious, such as a bag to collect trash, a roll of paper towels, a stash of coins, and a cozy blanket.
Wishing you safe travels and lots of fun adventures with your family. Be sure to take plenty of pictures, and don't forget to stock up on your favorite Welch's Fruit Snacks® today!