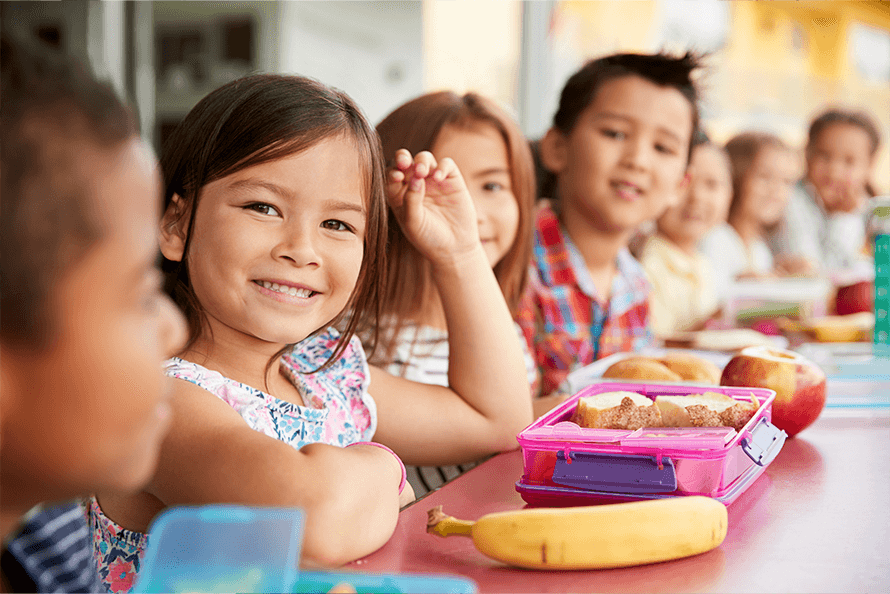 When we think of classic back to school lunch ideas, we immediately think of sandwiches. After all, sandwiches have been a lunch box staple for generations and they're popular for a reason! However, kids can get bored eating the same things every day, and parents can get bored of packing them. In other words, there are only so many turkey sandwiches one can make.
That's where we come in! To shake up your routine, we put together this list of kid-approved school lunch ideas that are fresh, fun, and easily adaptable for kids with allergies. Plus, they're fast and easy to make for those mornings when you're racing to catch the school bus. 
Ready for school lunch ideas your kids will love? Let's dig in!
Pasta Salad
Pasta salad is one of those school lunch ideas that can be served either warm or cold, depending on your child's preference or the ingredients you use. It's also one of our favorite allergy safe school lunch ideas since you can customize it by subbing gluten free pasta or skipping the cheese to make it dairy free. While you can use any pasta shape, many people find that rotini and bowtie hold up best in terms of heartiness. You'll find tons of pasta salad recipes online, but here's a simple, semi-homemade version that you can throw together quickly on a school night. Simply boil pasta and mix in your favorite bottled salad dressing. Add chopped fresh veggies, such as bell pepper, grape tomatoes, or shredded carrots. Add cheese if you'd like, such as cubed cheddar, marinated mozzarella balls, or grated parmesan. Want some extra protein? Add diced ham, turkey, or a cut-up hard boiled egg. The pasta-bilities are endless!
Grazing Box
Do you have a grazer or picky eater who is all about snacks? We've got you covered with one of our favorite school lunch ideas for picky eaters. Start with a lunch box that features a bunch of small compartments or divided sections. Fill each compartment with bite-size snacks your child can nibble on. The key is to include both nutrient dense foods and better-for-you treats so you can strike the right balance. Think clementine segments, pretzels, baby carrots, cheese cubes, pepperoni slices, and Welch's® Reduced Sugar Fruit Snacks. They feature the same delicious flavors you get with Welch's® Fruit Snacks regular Mixed Fruit, with 25% less sugar. When it comes to kid lunch ideas for school, it doesn't get more customizable than a grazing box! Let your child get in on the fun by filling the compartments together. Quick school lunch ideas like this one are a lifesaver on days when you're running late. It's also a good idea when you're in between grocery shopping trips and have to make do with a bunch of random items that you have in the house.
Deconstructed Sandwich
When looking for toddler school lunch ideas or school lunch ideas for kindergarten, sandwiches aren't always the best choice. Why? Sometimes younger kids or picky eaters don't like it when sandwich ingredients touch each other (strange, but true). The perfect solution is a deconstructed sandwich. Sounds fancy, but a deconstructed sandwich is really just taking each sandwich ingredient and serving it separately. Get a divided reusable container and fill each section with a different sandwich element. For example, rolled up slices of ham in one section, rolled up slices of American cheese in another section, and cut up bread (or crackers or pita) in the next section. For gluten-free kids, simply use gluten-free bread or mini rice cakes. Add some fresh veggies and a fun treat, such as Welch's® Juicefuls® juice filled fruit snacks. They're gluten free, non-GMO and made without preservatives, so you can feel good about giving them to your kids.
Mini Bagel Bento
Next on our list of lunch ideas for school is a mini bagel bento. What is that you ask? Think of it as a kit that lets kids build their own mini bagels with their toppings of choice. Pre-slice a couple of mini bagels (or more if your child is a bigger eater) and include different spreads and topping combinations that they can customize on site. Try peanut butter sprinkled with raisins, hummus sprinkled with chopped olives, cream cheese topped with fresh strawberries, chocolate hazelnut spread topped sliced bananas, or Greek yogurt sprinkled with Welch's® yogurt snacks. Made with real fruit surrounded by creamy yogurt, these yummy snacks are an excellent source of Vitamins A & C, a good source of Vitamin D and Calcium, and contain no artificial flavors. Kids love getting creative with different flavor combinations in their bagel bento, which is why you can't go wrong with this idea! You can also sub in gluten free bagels for anyone who is gluten sensitive or allergic. It's the perfect option for all ages, whether you're in search of kids school lunch ideas or high school lunch ideas.
Southwest Salad
When looking for healthy school lunch ideas or cold school lunch ideas, the obvious choice is a salad. But not all salads are created equal! This Southwest Salad manages to be both nutritious and delicious at the same time, with enough flavor and texture to keep kids from getting bored. Parents tend to like it, too! Simply chop up crisp romaine lettuce and add corn, black beans, diced onion, and chopped tomato. Sprinkle in a generous amount of shredded cheese, such as Colby jack, a Mexican blend, or good old cheddar. Next add in tortilla strips for a satisfying crunch. You can enjoy the salad as is or top it off with leftover proteins from dinner, such as grilled chicken or steak. As for dressing, this salad goes well with citrus vinaigrette, ranch, or really any dressing you prefer. It also keeps well so you can make a large bowl and get several meals out of it. It's no wonder it's one of our favorite easy school lunch ideas.
We hope you were inspired by our list of school lunch ideas! Remember that no lunch box is complete without a package of Welch's Fruit Snacks®. Check out our full lineup of fruit snacks today!