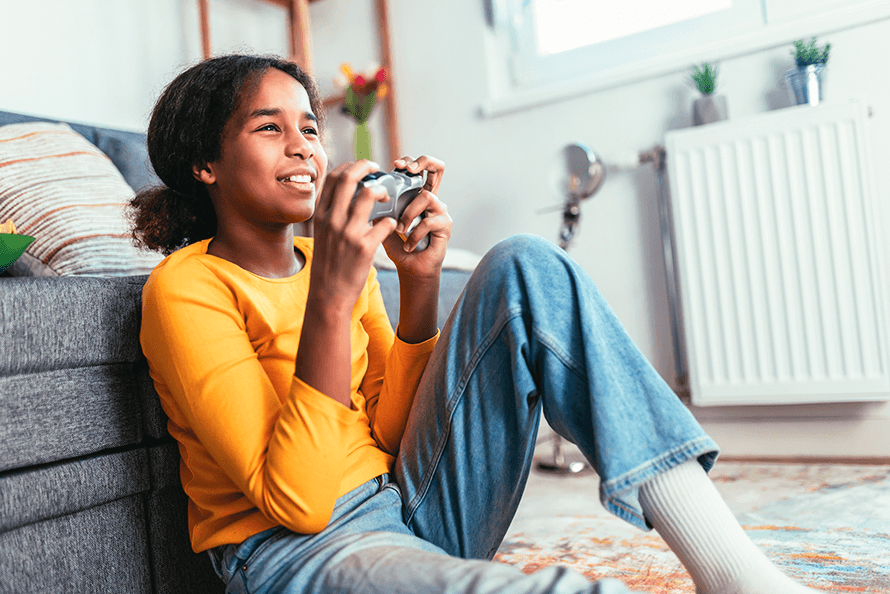 If you have a gamer in your house, you know they take their craft very seriously. The same goes for their snacks!
The best snacks for gaming are ones that are easy to eat, kid-friendly, and unlikely to leave their game controllers and keyboards a sticky mess. That means it's probably smart to skip the loaded nachos, cheese puffs, and greasy fries in favor of no mess snacks that are fun to eat.
In addition to suggesting snacks for playing video games, we'll also get into some sweet treats and take-home goodies for gaming-themed parties that are sure to be big winners. So, let's hit play!
No Mess Gaming Snacks
Let's start off with snacks for gaming that minimize mess as players jump, race, and swerve their way to the finish line.
1. Dry Cereal
Dry cereal is the perfect pick-me-up snack that gamers can eat by the handful during gameplay. To amplify the wholesomeness factor, choose a cereal with whole grains, fiber, and vitamins.
2. Pretzels
Crunchy, salty, and mess-free, pretzels are one of those game night snacks that are a universal hit with gamers of all ages.
3. Welch's® Fruit Snacks
When it comes to no mess snacks for gaming, it's hard to beat Welch's Fruit Snacks®. Not only are they easy to eat while playing, but they're also an excellent source of vitamins A, C & E.
4. Beef Jerky
Many gamers like beef jerky or turkey jerky as it delivers tasty protein while being dry to hold and easy to munch on. It often comes in different flavors like teriyaki, hot & spicy, and barbeque to suit players with different tastes.
5. Cheese Platter
Having several gamers over? Cube up some cheese and cured meats and serve on a platter with toothpicks to avoid messy hands.
Better-for-You Gaming Snacks
Looking for easy snack ideas that are also considered better-for-you? Try these tasty options that are sure to put a smile on your gamer's face.
6. Energy Bars
Energy bars are on our list of healthy gaming snacks as they're typically protein-dense to help stave off hunger—making them one of the best snacks for gaming during marathon sessions. Plus, with so many flavors available, it's easy to find an option for every gamer you know.
7. Hard Boiled Eggs
Packed with protein, hard boiled eggs are the perfect healthy gaming snacks. They're also one of the best foods for all night gaming since they'll keep players satiated as they navigate multiple levels. To elevate the experience, make deviled eggs or sprinkle hard boiled eggs with a little salt and pepper, garlic powder, onion powder, or paprika.
8. Welch's® Reduced Sugar Fruit Snacks
Welch's®  Mixed Fruit Reduced Sugar Fruit Snacks feature the same delicious flavors you get with Welch's® Fruit Snacks regular Mixed Fruit, with 25% less sugar—making them a better-for-you choice in the landscape of gaming snacks. Made with Real Fruit, these no mess snacks are an excellent source of Vitamins A, C & E and contain no preservatives.
9. Fruit
We can't suggest healthy snacks for gamers without mentioning fruit. To avoid getting hands wet and sticky while reaching for those controllers, consider a fruit skewer featuring fresh pineapple, strawberries, kiwi, grapes, and other favorite fruit.
10. Fruit Smoothies
When it comes to gaming snacks and drinks, a fruit smoothie checks both boxes, offering hydration, refreshment, and energy. Plus, you can drink it with a straw while playing. Add peanut butter or protein powder for an extra boost.
11. Squeezable pouches
For younger gamers, squeezable pouches make great snacks for gaming. They allow you to sneak in fruits and veggies while keeping hands mess-free.
Gaming Party Sweet Treats
Having a gaming-themed birthday party for your child? These treats and snacks for gaming are right on theme.
12. Leveled Up Cupcakes
When thinking about birthday party gaming food ideas, we can't forget about cupcakes! After all, no birthday party is complete without them. One of our favorite easy snack ideas is to add toppers to each cupcake with a video game twist on the birthday child's age. For example: "Level 10" for a 10-year-old. You can purchase toppers like this online or make your own with a toothpick and templated printouts.
13. Leveled Up Goody Bag Treats
This idea also works well for party favors. Put Welch's Juicefuls® in a clear bag and add a "Level 10" tag (or whatever level matches your birthday kid's age). These mouthwatering snacks you can eat while gaming are the perfect allergen-free choice for all your party guests. With fruit as the first ingredient, they are gluten free, non-GMO, and made without preservatives—using only naturally sourced colors and flavors. Plus, they're an excellent source of vitamins A, C & E.
14. Video Game Character Cake
Busy parents are always looking for the best quick snacks and treats they can make in a flash. For the easiest birthday cake ever, add a themed 3D topper—like an action figure or a toy car—to a frosted sheet cake and decorate with Welch's® Fruit 'n Yogurt Snacks™. Made with Real Fruit surrounded by creamy yogurt, these delicious gaming snacks are available in Strawberry, Blueberry-Acai, and Mango-Peach.
15. Chocolate Controllers
Did you know you can find candy molds shaped like handheld game controllers online? It's true! Chocoholics will drool over these sweet snacks for gaming, which make a memorable take-home treat.
16. Chocolate-Covered Pretzel Rods
Speaking of chocolate, these gaming snacks are always a big hit. Dip pretzel rods in melted chocolate about halfway so that the bottoms can be easily held. You can use either milk chocolate, dark chocolate, or white chocolate depending on your preference and theme colors. While the chocolate is still sticky, roll in sprinkles, sugar crystals, or nonpareils in the colors of your theme. Alternatively, you can drizzle these game night snacks with a second color of melted chocolate to match your party hues.
Game over! That completes our list of snacks for gaming that won't steer you wrong. We hope we gave you a winning combination of options to fuel your favorite player.
Don't forget to stock up on Welch's Fruit Snacks® for your next gaming session. Happy playing! Snacks® to make rainy days even brighter!