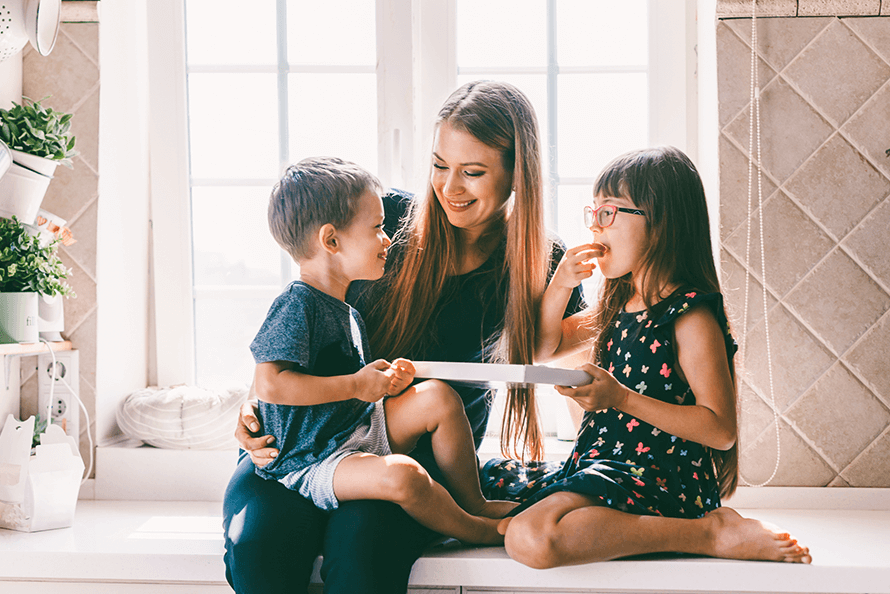 We all know that kids and snacks go hand in hand. While some snacks are perfect for any occasion, others lend themselves well to specific settings—like sports practice, a birthday party, or a day out running errands. Our roundup of 24 easy snacks for kids is organized into categories, with four kid-friendly snack ideas for each occasion. Happy snacking!
Festive Party Snacks for Children
Parties call for elevated treats that are festive and celebratory. It's always fun to create snacks for kids that go with your party theme—whether you're hosting a birthday bash, a holiday party, or any other type of get-together. Instead of Pinterest-perfect or complicated snacks, many parents prefer easy snacks for kids that still feel party-ready. Here are some simple yet special ideas:
1. Cake pops
Whether you buy them or make them, cake pops are a kid favorite that are fun to eat. You can customize the icing and sprinkles for your theme. Example: Orange icing with black sprinkles for Halloween; or light blue icing with white sugar crystals for a winter wonderland theme.
2. Fruit skewers
Healthy and colorful, fruit skewers are the perfect snacks for kids to eat while standing up. Simply cut your favorite fruit into bite-sized pieces and thread them one by one on a bamboo skewer. It's a creative idea for a rainbow-themed party using a strawberry for red, an orange for orange, a pineapple for yellow, a kiwi for green, and a blueberry for blue. Fruit skewers are also a great option for a Fourth of July party using red and blue fruit.
3. Ice cream station
Who doesn't love ice cream? Put out bowls, spoons, and a few different flavors of ice cream and let your party guests build their own sundaes. Include a variety of toppings like chocolate sauce, whipped cream, sprinkles, candy, crushed cookies, and Welch's® Fruit 'n Yogurt™ Snacks—a delicious yogurt covered snack made with Real Fruit surrounded by Creamy Yogurt. A good source of calcium and Vitamin D, Welch's® Fruit 'n Yogurt™ Snacks are available in yummy varieties like Strawberry, Blueberry-Acai, and Mango-Peach.
4. Cookie cutter sandwiches
Simply make a sandwich of your choice on soft sliced bread, then use a cookie cutter to cut it into a fun shape. White bread and a large, sturdy metal cookie cutter will work best. Consider creating shapes that go with your party occasion or theme, like hearts for Valentine's Day, stars for the Fourth of July, or flowers for a garden party.
Popular Kids Snacks for Sports Practices & Games
Whether they're on the soccer field, ice rink, or basketball court, sporty kids need the right fuel to sustain their energy. If you're designated this week's "snack parent" for practice or gametime, look for kids snacks with protein or other filling snacks for kids that are easy to tote, like:
5. String cheese
6. Beef jerky
7. Energy bars
8. Nuts
Remember to bring along wet wipes for messy hands and a garbage bag to collect trash!
Quick Snack Ideas for Travel
When hitting the road, snacks are an essential way to tide the whole family over between meals. Many parents choose dry snacks for kids to avoid the need for refrigeration. Think:
9. Baked chips
10. Pretzels
11. Granola bars
12. Welch's® Mixed Fruit Reduced Sugar Fruit Snacks
Welch's® Mixed Fruit Reduced Sugar Fruit Snacks feature the same delicious flavors you get with Welch's® Fruit Snacks regular Mixed Fruit, with 25% less sugar. Made with Real Fruit, they are an excellent source of Vitamins A, C & E and contain no preservatives. This delicious variety includes Strawberry, White Grape Raspberry, Orange, White Grape Peach, and Welch's® Concord Grape. What's not to love?
Snack Ideas for Toddlers at Home or On the Go
Toddlers are perfecting their fine motor skills, so they tend to like any type of snack they can grab and pick up by the handful, like:
13. Dry cereal
14. Freeze-dried fruit
These are great snacks for kids at home since spillage is a strong possibility. Another great at-home snack is:
15. Apple slices dipped in peanut butter
For a less messy snack you can take on the go, try:
16. Squeezable pouches
Available in a variety of flavors, squeezable fruit and vegetable pouches are often considered low sugar snacks for kids and are easy to grab on the way out the door.
Snacks Kids Love for Sleepover Parties
Looking for quick snack ideas that are perfect for sleepovers? It goes without saying that for movie-time, you'll need:
17. Popcorn
Along with other fun, shareable options like:
18. Chips and dip
19. Welch's® Juicefuls® Juicy Fruit Snacks
These juice filled fruit snacks are an excellent source of Vitamins A, C, E as well as gluten-free, non-GMO, and made without preservatives.
20. Slice-and-Bake Cookies
If the kids decide they want to bake later on in the evening, save your kitchen from an epic mess by having slice-and-bake cookies or premade cookie dough on hand. They'll still get that fresh-from-the-oven feeling without leaving you to sweep up flour and walk on eggshells—literally.
Fun Classroom Party Snacks
Have you volunteered to help with a party at your child's school? You've come to the right place for classroom-ready snack.
For the ultimate flavor showdown, have kids do a taste test of three different  Welch's Fruit Snacks® varieties: Mixed Fruit vs. Berries 'n Cherries vs. Island Fruits. See if they can identify which flavor is which, or have them vote for their favorite.
Other classroom snacks kids love include:
22. Mini Bagels (regular and gluten free)
Anything mini tends to be a favorite with kids. Let them add butter, cream cheese, jelly, or another favorite spread, along with fun toppings like raisins or mini chocolate chips.
23. Marshmallow Squares
Made with rice cereal, melted butter and marshmallow, these iconic treats are always a hit with students and can be decorated with different holiday colors.
24. Fruit "Characters"
Draw a face on the outside of a banana or clementine with a food-safe marker. Clementines make great mini jack-o-lanterns and bananas are the perfect canvas for writing Valentine puns such as: "Let's never split!" or "You're very a-"peel"-ing!"
We hope our roundup leaves you feeling prepared for any type of snack attack! Learn more about your favorite Welch's Fruit Snacks® products today.