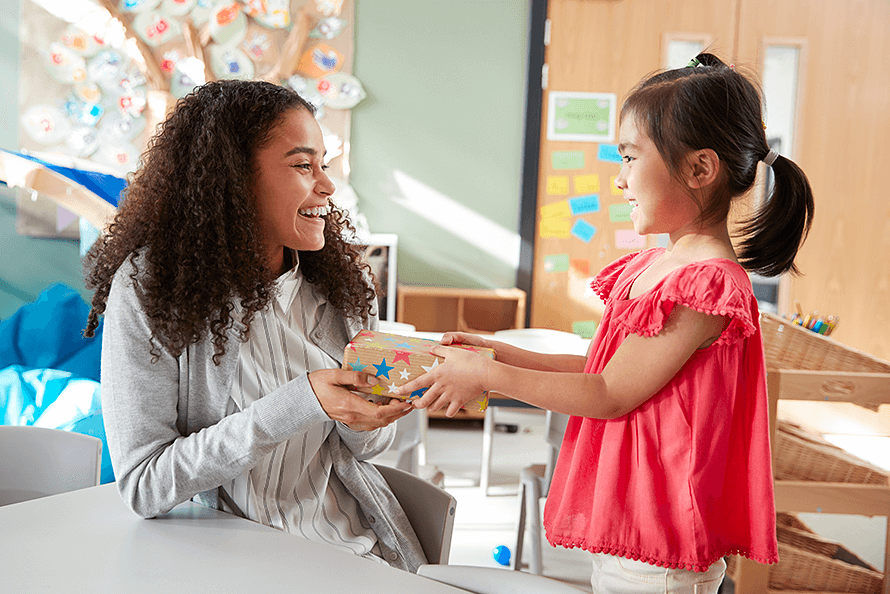 What would we do without teachers? In addition to educating our kids, they work hard every day to develop their students into caring, ethical, and resilient individuals. From creating lesson plans at night, to offering extra help after class, to even sometimes funding classroom items out of their own pockets, teachers are heroes who deserve to be celebrated with teacher appreciation gifts.
Whether it's the holiday season or the end of the school year, small gifts for teachers are a great way to recognize all that they do to help our kids grow. Another great time to hand out teacher appreciation gifts is during Teacher Appreciation Week, which runs the second week of May each year.
Without further ado, let's dive into our essential list of teacher appreciation gift ideas.
Gift Card
First on our list of teacher appreciation gift ideas is a gift card. While gift cards may not seem like the most unique teacher gift, trust us when we say they're always a highly valued choice. We like to package a gift card with a related physical gift to make it feel extra special. For example: A travel mug paired with a coffee shop gift card, or a lovely hand cream paired with a gift card for a manicure at a local salon.
Beach Bag
When it comes to teacher appreciation gift ideas to give at the end of the school year, a beach bag always fits the bill. This DIY teacher appreciation gift is the perfect way to kick off the start of summer. Simply buy a beach bag and fill it with everything one would need for a day at the beach: A towel, sunscreen, flip flops, and snacks. Must-have packaged snack ideas for teachers include baked chips, granola bars, and Welch's® Fruit Snacks. Made with real fruit, these mouthwatering, allergen-free snacks are an excellent source of Vitamins A, C & E and individually packaged for on-the-go convenience. They're the perfect addition to any beach day!
Gardening Tote
If your child's teacher has a green thumb, consider gifting them a gardening basket or tote. To assemble this DIY teacher appreciation gift, fill a basket or tote with gardening gloves, a sun visor, seed packets, and a small shovel and trowel set. Thoughtful gifts for teachers like this one are easily customizable and show that you're paying attention to a teacher's personal interests.  
Hobby Basket
Need more inspiration for a gift basket idea for teacher hobbies and passions? Try these: 
       

For a baker: Oven mitt, measuring spoons, recipe cards, etc.

       

For a knitter: Spools of yarn, knitting needles, knitting patterns, etc.

       

For a golfer: Golf balls, golf tees, golf gloves, etc.

       

For literary types: Book light, bookmark, journal, etc.

       

For a dog lover: Items to pamper their pet, such as treats, a chew toy, a new collar, etc.
You get the idea! There are so many teacher appreciation gift ideas and basket stuffers out there to align with any interest.
Teacher Treasure Box
If you're in search of gifts for teachers from students with a personal touch, try a teacher treasure box. This is one of those thoughtful gifts for teachers that your kid can be a part of by lending their artistic skills and creativity. Buy an unfinished wooden desktop trinket box and have your child decorate it using colorful paint and stick-on gems. Fill it with "treasures" and supplies such as sticky notes, binder clips, rubber stamps and more. Don't forget to include teacher appreciation goodies they can snack on, such as Welch's® Fruit 'n Yogurt Snacks. Made with real fruit surrounded by creamy yogurt, these delicious snacks are an excellent source of Vitamins A & C, and a good source of Vitamin D and Calcium—making them totally teacher approved.
Subscription Box
If you're looking for a good group gift for teacher appreciation, a subscription box is a great choice. It's literally the gift that keeps on giving, with new items arriving in the mail every month. There are so many subscription box options available these days, from beauty boxes, to wine of the month, to plant subscriptions, to gourmet food boxes, and beyond. The nice thing about this unique teacher gift is that it will serve as a reminder of their students with each delivery. While subscription box plans can be pricey, it's one of the best teacher gifts you can give as a group by collecting funds from each student. 
Spa Basket
No one deserves a moment of self-care more than teachers. One of our favorite gift ideas for Teacher Appreciation Week is a spa basket. Some ideas for building a spa-themed basket include scented lotions, a sheet mask, an essential oil diffuser, under-eye patches, a body scrub, a loofah sponge, and more. This is another one of those teacher appreciation gift ideas that you can give individually or as a group. If the cost of this gift for teacher appreciation is being shared by the whole class, consider including a spa gift card for a massage. 
Movie Basket
If your child's teacher is a big movie fan or film buff, elevate their next binge-watching session with a movie-themed gift basket. Simply fill a basket with teacher appreciation goodies like microwave popcorn, slippers, and different flavors of sprinkle-on popcorn seasoning. Be sure to include Welch's® Fruit 'n Yogurt Snacks for a treat that's easy to eat and fun to share with friends while relaxing in front of the TV. They're an excellent source of Vitamins A & C, a good source of Vitamin D and Calcium, and contain no artificial flavors. Try the creamy and delicious Mango-Peach flavor for the perfect summertime treat.
That concludes our roundup of teacher appreciation gift ideas. We hope we inspired you to find just the right gift for your child's teacher—whether for the holidays, the end of the school year, or Teacher Appreciation Week. Bonus points if you include a handmade card from your child!
To make any gift basket extra special, be sure to include teacher appreciation goodies like delicious Welch's® Fruit Snacks and Welch's® Fruit 'n Yogurt Snacks. They're guaranteed to make your favorite teacher smile.