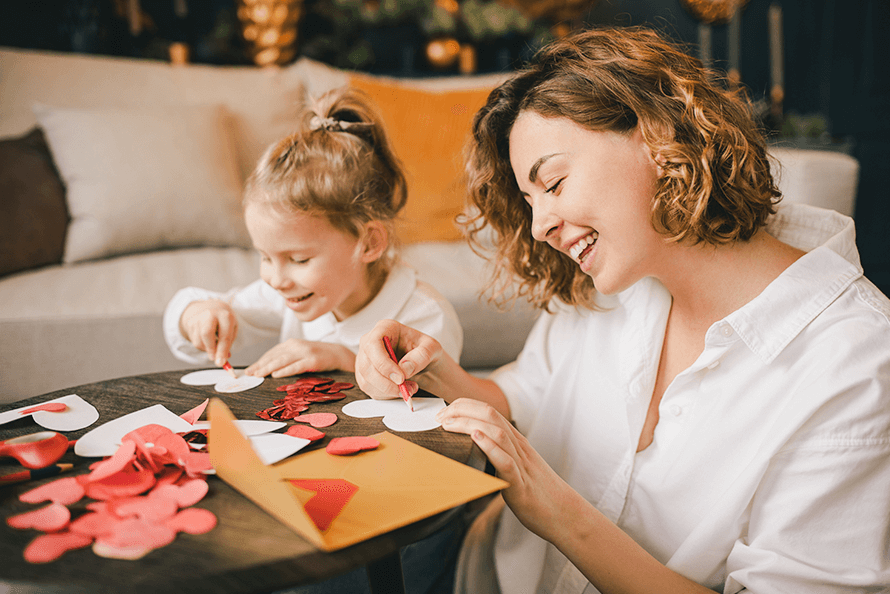 When we think about Valentine's Day, we often think of romance, flowers, candlelight dinners, and chocolate. However, Valentine's Day is a celebration of love in all its forms—and a perfect excuse to show how much we care about our family, friends, and loved ones. Want to get little ones involved in spreading the love? Check out our list of Valentine's Day activities for kids, which covers treats, games, crafts, and more!
Cut out heart-shaped sandwiches
If you're looking for fun kids activities for Valentine's Day that will also serve as a meal, these heart-shaped sandwiches are a great choice. Not only are they fun to make, they're also the perfect way to fill their school lunchbox on V-Day. Make a peanut butter & jelly sandwich on soft white bread but leave some room around the edges so the filling doesn't reach all the way to the crust. Use a large, sturdy metal cookie cutter to cut the sandwich into a heart shape. If your kid has a peanut allergy or isn't a fan of PB&J, try it with cream cheese and jelly or another filling of choice that's not too tough to cut. This is one of those easy Valentine's Day activities for kids that you can make in the morning before school. Sneak a love note in their lunchbox for an added touch!
Make heart-shaped pizza
One of our favorite Valentine's Day family activities is making heart-shaped pizza for dinner. It will take some practice to shape the dough into a heart, but you'll have fun laughing with your kids while trying it. And remember: It doesn't have to be perfect! Place the dough on a lightly greased pizza pan or large cookie sheet and spread with sauce, shredded cheese, and the toppings of your choice. Pro tip: Many pizza parlors sell dough at the counter if you ask for it. Or check the freezer section of your grocery store for pre-made dough. These are the types of cute Valentine's Day activities that kids will always remember working on together.
Create clever Valentine's Day cards
We love easy Valentine's Day crafts for kids that combine creativity with practicality. Kids will enjoy making these personalized greetings for their classmates, and parents will enjoy not having to purchase store-bought cards. Have your child use cardstock or a large index card and cut it into a heart shape. Write in the "to" and "from" and add some fun stickers or other decorations if desired. Next, staple a pouch of Welch's® Juicefuls® to each card. With fruit as the first ingredient, these juice filled fruit snacks are gluten free, non-GMO, and made in a nut-free environment—making it a perfect allergy-friendly choice. Add a fun message with a play on words, such as: "I like you berry much!" or "I'm grapeful for our friendship!" When it comes to Valentine's Day activities for students, this one is a winner.
Build a bucket of affection
Although Valentine's Day isn't a big gift-giving holiday, it's still fun to surprise kids with a little token of your affection. Instead of the traditional heart-shaped box of chocolates, try this kid-approved idea that we like to call a "bucket of affection." Get a red beach pail or basket and fill it with treats like Welch's® Reduced Sugar Fruit Snacks, candy, bubbles, cute socks, and other fun goodies. Think about including items that can be used for Valentine's Day crafts, such as markers, stickers, or glue sticks. If you're looking for more children's Valentine's Day activities, have your kid put together a "bucket of affection" for his or her teacher, filled with sticky notes, colorful binder clips, rubber stamps, and their favorite treats. 
Spread some compassion
Valentine's Day can be a teachable moment to show kids the importance of caring for others and the world around us. Consider participating in Valentine's Day activities for kids that are rooted in compassion, such as volunteering your time together at a local animal shelter or soup kitchen—or working together to make cards for patients at your local children's hospital or nursing home. Have kids call a grandparent or a relative they haven't spoken to in a while or practice a random act of kindness for a stranger.
Make a Valentine's Day mailbox
Volunteering for your child's classroom party? We've got the best Valentine's Day activity for kids that never goes out of style. To make a card mailbox, simply have each child bring in a shoebox or purchase premade cardboard boxes with lids at a craft store. Carefully cut out a slot on top and then get busy decorating. Skip the messy paint and use materials that don't need to dry so that children can immediately take their creations home. We like to use red and pink washi tape, markers, and stick-on gems. This is one of those Valentine's Day activities for school that anyone can make in a short amount of time. Plus, it serves a practical purpose!
Play fun classroom games
Make classroom parties memorable by playing Valentine's Day games for kids. For example: Put a twist on "Simon Says" by turning it into "Cupid Says." The commands can be things like "blow a kiss," "hug yourself," or "make a heart with your hands." Another Cupid-themed idea is to play "Pin the Arrow on Cupid" by adapting "Pin the Tail on the Donkey." Kids also love fun challenges, like picking up candy hearts using chopsticks, or playing freeze dance to songs containing the word "love." You can also find fun printables online, such as V-Day themed word searches, bingo, mad libs, and more.
Bake up some love
We like to make minor adjustments to everyday recipes to turn them into Valentine's Day recipes. This way, you keep things simple while adding a little something festive to mark the holiday. For example: When making chocolate chip cookies, substitute the chocolate chips with red chocolate-coated candies. Instead of making cupcakes with plain vanilla frosting, tint the frosting pink with a few drops of red food coloring, then write "XO" on top of each cupcake using Welch's® yogurt snacks. Or try making "XO" soft pretzels by shaping the dough into those letters before baking.
Don't forget to make Welch's® Fruit Snacks part of your holiday—whether you attach them to Valentine's Day cards or incorporate them in Valentine's Day activities for kids. Wishing you a Happy Heart Day!