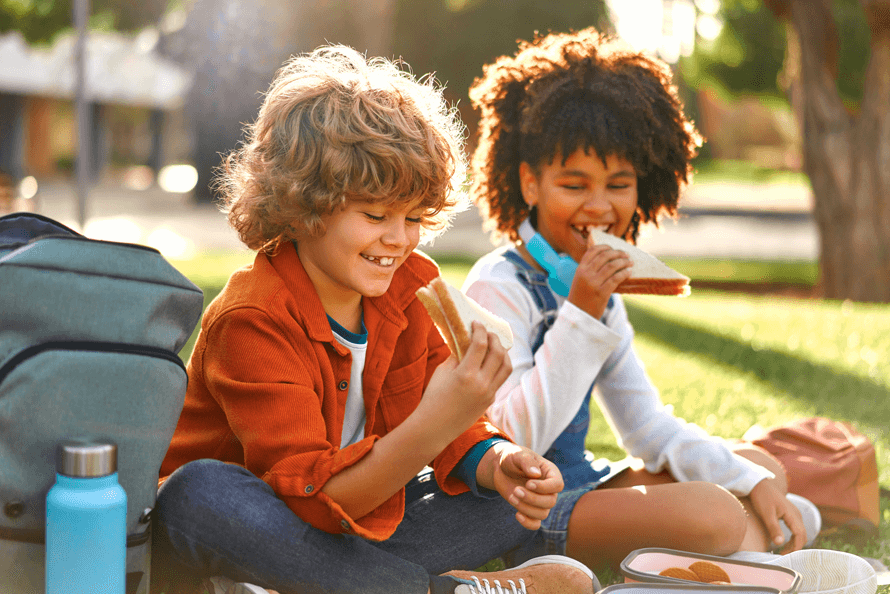 If you're anything like us, you have kids who come home from school every day hungry and ready to snack. We've rounded up a list of after school snacks that are sure to keep kids satisfied through activities like homework, after school sports, playdates with friends, and more.
Whether you're looking for quick snacks for after school or easy after school meals, we've got the perfect options for your family's busy lifestyle. So, let's start snacking!
After School Snack Ideas
Yogurt
When it comes to kids snacks for school lunchboxes or the after school munchies, it doesn't get much easier than yogurt. Yogurt offers a little protein and a little sweetness, with so many flavor options to choose from. 
Fresh Fruit Dippers
Speaking of yogurt, you can also use it as a dip for cut-up fresh fruit. We love easy after school snacks that are also fun for kids to eat.
Veggies & Dip
Another fun-to-eat option on our list of after school snacks is veggies and dip. Try celery with peanut butter, baby carrots with hummus, or sliced bell pepper with ranch dressing.
Pretzels & Dip
If you're kid is picky about eating vegetables, you can also try the above dippers with pretzel crisps or crackers. Dippers are very versatile and easy after school snacks.
Popsicles
Sure, you can buy popsicles at the store, but they're also easy snacks to make after school yourself. Simply fill popsicle molds with juice or flavored coconut water and freeze overnight. They're the perfect before dinner snacks that won't fill kids up too much.
Welch's Juicefuls® Juicy Fruit Snacks
See the Juice…Taste the Fruit!™ with NEW Welch's® Juicefuls®, now in 3 varieties the whole family will love.. Available in Mixed Fruit, Berry Blast and Island Splash, these easy after school snacks are Gluten Free, allergen-free, and non-GMO.
Mini Bagels
Mini bagels make great after school snacks because they're the perfect size for snacking. Kids can add their favorite spreads, like cream cheese, jelly, or butter.
Mini Muffins
Another "mini" option is mini muffins, which are always a favorite with kids. These quick snacks for after school can also be served as a better-for-you dessert.
Cereal
You can't go wrong with a bowl of cereal with milk when it comes to quick snacks for after school. Kids can also eat dry cereal by hand while doing homework.
Baked Chips
Another idea for what to eat after school while doing homework is baked chips. They're less greasy than regular potato chips, making them the ideal mess free snacks to keep hands and keyboards clean.
Animal Crackers
These popular treats are one of the best after school snacks for kids of all ages. The fun animal shapes are always a hit!
Graham Crackers
Even when they're not part of s'mores, graham crackers are still a kid-approved treat. Be sure to add them to your list of after school snacks for kids.
Beef Jerky
Beef jerky makes our list of after school snacks because it's packed with protein while being fun for kids to eat.
String Cheese
Another fun-to-eat option on our list of easy snack ideas is string cheese. It also makes a great lunch box addition.
Pita Chips
Pita chips offer a satisfying crunch and can be served alongside a variety of dips. They're one of the best after school snacks to munch on while doing homework.
Applesauce Cups
Next on our list of easy snack ideas we have applesauce cups. Serve them room temperature or refrigerated depending on your child's preference. Try sprinkling with cinnamon for a little extra flair.
Slice & Bake Cookies
Some days call for a little extra treat. Deliver the aroma of freshly baked homemade cookies without all the work by making slice & bake cookies. Your kids will thank you!
After School "Mini Meals"
Sometimes parents wonder,"when should your kids snack", and after school is a great time! Its always nice to have easy after school meals for those days when kids are extra hungry. These sandwiches are good snacks to make at home when you want to fuel kids up between school and sports practice or hold them over until a late dinner. Try these fun and filling snacks to make after school.
PB & J "Sushi"
We love after school snack recipes that kids like to help make. For this yummy option, flatten two slices of your favorite style of bread with a rolling pin. Spread peanut butter and jelly on both slices, leaving a small space on one end. Roll up into a sushi roll and pinch the seam closed. Turn seam down, and slice into half-inch pieces of sushi.
Berry Toast
This is one of the best after school snacks for kids with more sophisticated palates. Spread softened cream cheese on two slices of toasted bread, then top with sliced strawberries and chopped basil. Try other combinations, such as ricotta with blueberries and slivered almonds or brie with raspberries, walnuts, and chopped rosemary.
Turkey & Apple Sammy
One of our favorite healthy after school snack ideas is this turkey and apple sandwich. Layer American cheese, turkey breast, lettuce, and thinly sliced green apple on a slice of bread. Top with a second bread slice, cut in half, and enjoy!
Broccoli Cheddar Grilled Cheese
If you're wondering what to eat after school that's yummy but still packs in nutrients, try this elevated grilled cheese sandwich.
Butter two slices of bread. Place one slice, butter side down, in a skillet over medium heat. Top with two cheddar cheese slices, followed by ¼ cup steamed broccoli, two more cheddar cheese slices, and second bread slice, butter side up. Cook, flipping intermittently, until cheese is melted and bread is golden brown on both sides.
Try Our Favorite Snack Hack
To keep after school snacks for kids accessible and neatly contained, create a snack jar for your countertop. With this smart hack, kids can easily identify their preferred quick snacks for after school and grab them as they head out the door for activities like soccer practice or dance class.
Simply take a large, clear jar and fill it with prepackaged snacks like individual bags of popcorn, veggie straws, pretzels, granola bars, and Welch's Juicefuls® Juicy Fruit Snacks.
Need More Easy Snack Ideas?
Check out our roundup of easy snacks for kids and be sure to try new Welch's Juicefuls® Juicy Fruit Snacks today!