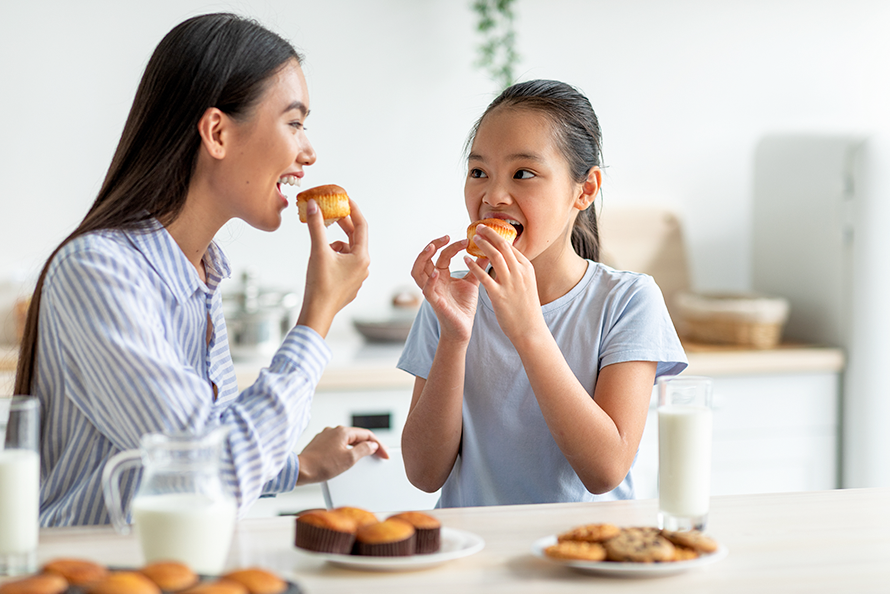 While it can be super frustrating for parents, picky eating is a common childhood behavior. Some kids are simply more sensitive to certain smells, tastes, and textures of food—leading them to be highly selective about what they'll eat. The good news: Many kids outgrow pickiness as their palates begin to mature.
In the meantime, to help ease the challenge of having a choosy child, we put together this list of foods for picky eaters. Depending on your child's level of pickiness, some of these ideas may work and others may not. But it's certainly worth a try!
Snacks for Picky Eaters
Without further ado, let's get into some essential snack ideas to make day-to-day life a little easier with your selective eater.
1. Fruit
In search of healthy snacks for picky kids? Fruit is often a good bet. Even the choosiest little ones will usually like at least one type of fruit, such as seedless grapes, strawberries, apple slices, clementines, or bananas. If your kid remains reluctant, make a fruit smoothie by blending up frozen fruit, protein powder, and peanut butter and serve it in their favorite cup with a fun straw.
2. Welch's® Fruit Snacks
Made with Real Fruit, Welch's® Fruit Snacks offer a mouth-watering taste the whole family will love—picky kids included! Available in multiple tasty varieties, there is sure to be a flavor that will suit your child. In addition to being kid-friendly, Welch's® Fruit Snacks are an excellent source of Vitamins A, C & E, and contain no preservatives.
3. Pretzels
What's great about pretzels is that they're plain—a major requirement when coming up with "acceptable" foods for picky toddlers. If your child has an aversion to salt, look for a no-salt or low-salt variety of pretzels. To add protein or fat, offer up a kid-friendly "dipping sauce" such as peanut butter or hummus.
3. Yogurt
Next on our list of healthy snacks for picky kids is yogurt, which offers a nice smooth texture a hint of sweetness that can be appealing to choosy little ones. Look for yogurt in squeezable pouches or tubes, as toddlers love to exert their independence and use their hands to control the delivery of their food.
5. Welch's® Fruit 'n Yogurt™ Snacks
Speaking of yogurt, this delicious yogurt snack from Welch's® is made with Real Fruit surrounded by Creamy Yogurt, offering ultimate kid appeal. A good source of calcium and Vitamin D, Welch's® Fruit 'n Yogurt™ Snacks are available in yummy varieties like Strawberry, Blueberry-Acai, and Mango-Peach. Plus, they come in individual pouches for on-the-go convenience.
6. Mini Muffins
Kids seem to gravitate toward anything "mini," maybe because bite-sized items are easy for little hands to hold. There are plenty of better-for-you muffin recipes online that incorporate nearly undetectable nutritious ingredients like applesauce, shredded carrots, and zucchini. Muffins also freeze great if you'd like to make a big batch and defrost some later.
7. Welch's® Juicefuls® Juicy Fruit Snacks 
Featuring fruit as the first ingredient, these juice filled fruit snacks are an excellent source of Vitamins A, C, E, as well as gluten-free, non-GMO, and made without preservatives. They're on our list of snacks for picky kids because the juicy center makes them fun for little ones to eat!
Meals for Picky Eaters
Most parents of choosy children will tell you: When it comes to foods for picky eaters that will actually be accepted, it's all about the carbs: Pasta, bagels, rice, toast, cereal, and English muffins. And then of course there are the other toddler "food groups": Pizza, chicken nuggets, fries, tater tots, peanut butter and jelly, and scrambled eggs (if you're lucky).
Consider trying the "sneaky" method of blending vegetables into your tomato sauce, which can be used to top pasta or pizza. You can also try making a creamy soup with blended butternut squash.
Learn other tips to help your child become more open to trying new foods. And remember: You haven't fallen short as a parent if your child is choosy!
Common Foods Picky Eaters Don't Like
Now that we've talked about potentially palatable foods for picky eaters, let's commiserate about foods that most picky eaters don't like. It's helpful to understand why certain foods are challenging to those with choosy palates so you can start in a realistic place when offering new foods. While every kid is different, commonly refused foods include:
1. Odorous vegetables
When planning meals for picky eaters, many parents find their kids prefer less-odorous vegetables like carrots, corn, and bell peppers instead of strong-smelling options like broccoli, cauliflower, cabbage, or brussels sprouts.
2. Seafood & Sushi
Until your kid grows out of their picky phase, you may want to think twice about heading to your local sushi or seafood restaurant for dinner. For picky eaters, a "fishy" taste—or the slimy texture of sashimi—is an immediate no go.  Even if there's a kid's menu available, the restaurant may still have a fishy smell that could bother your child.
3. Condiments
Like we mentioned above, foods for picky eaters often include items like fries, chicken nuggets, and tater tots—all of which are all prime vehicles for ketchup. However, many finicky kids won't touch condiments at all, whether it's ketchup, mustard, mayonnaise, or barbeque sauce. Honestly, they don't know what they're missing.
4. Spicy Foods
Not surprisingly, foods with a kick to them tend to be way too intense for little ones with choosy palates. From hot wings to savory curries to wasabi and dishes with sriracha, it's rare that picky kids will reach for boldly flavored foods. Parents can only hope that one day they'll eat more than a side of plain rice!
5. Sandwiches
This may seem like an odd one, but when coming up with easy meals for picky eaters, many parents find that sandwiches don't make the cut. Why? Some kids don't like the fact that the ingredients all touch one another. One solution that could work is offering a "deconstructed" sandwich with cut up cheese, cut up turkey or ham, and a separate slice of bread.
We hope we've helped you discover some snacks and foods for picky eaters that your child will like. For easy snacks for picky kids on the go, be sure to stock up on Welch's® Fruit Snacks  today!