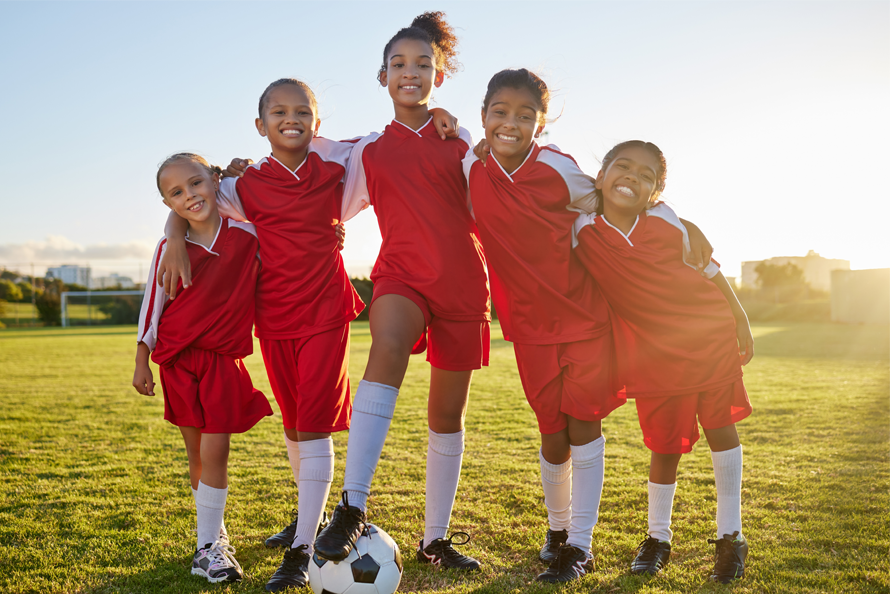 If you're a sports parent, you know that snacks are essential—especially during half-time.
Snacks provide the nutrients needed to sustain physical activity and aid in recovery while curbing hunger, improving focus, and giving kids a half-time energy boost.
Whether you're looking for good snacks for basketball players, football players, soccer players, or any other athlete in your life, we've got you covered with our list of half-time snack ideas. So, let the games begin!
Half-Time Snack Ideas
Are you asking yourself: "What are good mid-game snacks?" Well, you've come to the right place. Here are some of the best half-time snacks for kids:
Orange slices.

 Orange slices are one of the most classic half-time snack ideas for good reason. They're juicy, refreshing, hydrating, and high in Vitamin C, potassium, and other nutrients.

Pretzels.

 If you want a snack for game day that most kids will like, you can't go wrong with pretzels. They provide carbohydrates for energy along with a satisfying crunch. Pair with nut butter packets or small cups of hummus for a protein kick.

Energy bars.

 These game day snacks provide a halftime energy boost through a combination of carbohydrates, protein, and fiber. There are even bars available that are specifically designed for athletes.

Trail mix. 

One of the most popular snacks for football players and other athletes is trail mix made from granola, nuts, dried fruit, and other healthy snacks for sports.

Welch's

®

 Fruit 'n Yogurt™ Snacks. 

Made with Real Fruit surrounded by Creamy Yogurt, 

Welch's

®

 Fruit 'n Yogurt™ Snacks

 feature an excellent source of Vitamins A & C, a good source of Vitamin D and Calcium, and contain no artificial flavors. In addition to being kid-friendly, these perfect on-the-go snacks come in three flavors: Strawberry,  Blueberry-Acai, and Mango Peach.

Dry Cereal.

 Whole grain dry cereal is one of our favorite half-time snack ideas because it's a great pick-me-up. Look for individual mini cartons or single-serve cups or portion cereal out into zip-top baggies.

Squeezable Applesauce Pouches

. Great for the littlest players—or players of any age—applesauce pouches are shelf stable, easy to hold, tasty, and kid friendly.
Pre-Game Snacks
Who says pre-game tailgating is just for pro sports? It can be fun for families to gather in the parking lot before a kid's game to socialize, play some music, share game day snacks, and get pumped up for the day's event.
Consider pre-game snacks that appeal to both kids and adults, or snacks that can even double as a small meal before dinnertime, such as:
Mini bagels. 

They're great pre-game kids' sports snacks because they're filling without being too filling. Plus, they're easy to transport and don't require utensils. Consider slicing and adding spreads ahead of time to minimize mess. Peanut butter is an ideal option because it's packed with protein.

Mini sandwiches.

 Use lean lunch meat and whole-grain bread to make a platter of small sandwiches. Offering a balanced combination of protein and carbs, mini sandwiches are healthy snacks for sports that will keep kids satiated before a game without them feeling too stuffed.

Charcuterie board.

 If you want a snack for game day that's totally parent approved, try a charcuterie board with salami slices, cubed cheese, crackers, olives, and other savory items. Bring along small plates and toothpicks for convenient serving.
After-Game Snack Ideas
I

ce cream.

 Whether your team wins or loses, ice cream is an iconic post-game treat. Gather the team at a local ice cream shop or bring a cooler full of ice cream sandwiches, sundae cups, or any other variety of single-serve ice cream.

Ice pops or frozen fruit bars.

 Another one of our favorite sweet and refreshing after-game snack ideas is ice pops or frozen fruit bars. Bring along a cooler to distribute these post-game treats—or head to a local shop or convenience store with the team for other cold snacks, such frozen slushies, shaved ice, or snow cones to suit every taste.

Goody bags.

 Next on our list of after-game snack ideas is a fun one—goody bags! Hand players a small bag of take-home treats as they leave the field or court. Choose a bag in their team colors and fill it with individually packaged,

 

mess free snacks

 for the way home, such as a cookie, a chewy snack bar, and 

Welch's

®

 Fruit 'n Yogurt™ Snacks

.
Tips for Snack Parents
When it's your turn to bring half-time snacks for soccer, football, baseball and beyond, follow these tips.
Stay organized. 

Start an online signup sheet to keep track of whose turn it is to provide game day snacks. Provide the number of players, a list of popular half-time snack ideas, and any dietary restrictions that players might have. Which brings us to…

Be aware of allergies.

 When planning half-time snacks ideas for a group of kids, it's important to ask parents about any food allergies or intolerances that players may have. Make sure you have gluten-free or

 

dairy-free snacks

 on hand just in case.

Avoid certain foods.

 Overly high fat or high fiber foods can be harder to digest in a short amount of time, so be mindful of foods that are too heavy.

 

Offer variety.

 Aim to provide a couple different kids sports snacks to cater to different tastes and needs. Sometimes snack parents like to offer one savory option and one sweet option. We recommend including one snack that tends to be universally liked, such as pretzels, chips, popcorn, and Welch's

®

 Fruit Snacks.

Consider convenience and portions.

 Look for individually packaged snacks that are portable, easy to distribute, and don't require refrigeration. Individual snacks also help with portion control. If kids are extra hungry, they can always ask for more.

Keep kids hydrated.

 While players should be expected to bring their own water bottles, there are times when kids forget to grab it, or run out of water mid-game. For that reason, bring along a few bottled waters just in case.
That wraps up our list of pre-game, post-game, and half-time snacks for soccer, football, baseball, and any other kids' sport on your schedule. Hopefully we provided you with some new half-time snack ideas to add into your rotation, along with helpful tips that will make you the most popular snack parent ever.
Remember to fuel kids' fun during the game with Welch's® Fruit 'n Yogurt™ Snacks—a quick, convenient, and delicious snack for game day that the whole team will love.