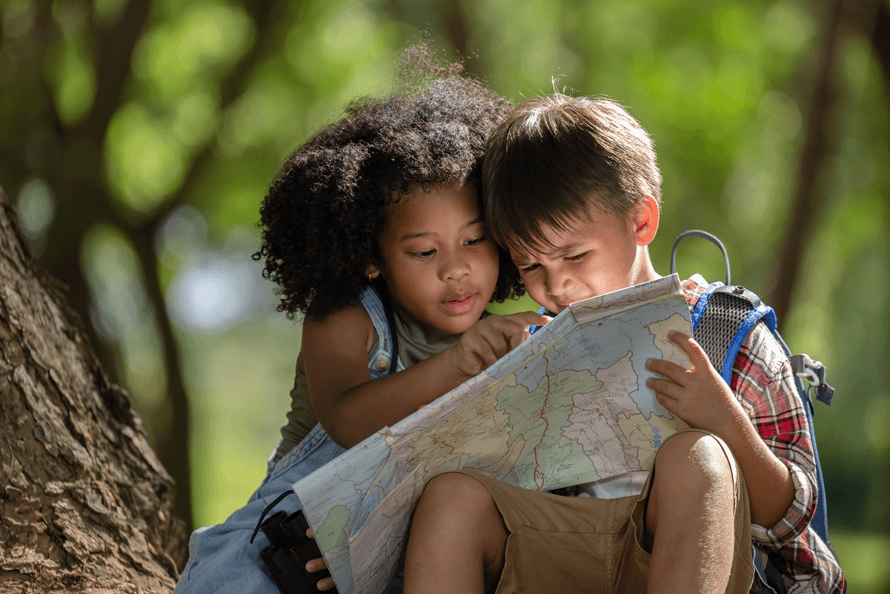 Scavenger hunts are a great way to keep kids occupied and smiling for hours on end. By setting up a scavenger hunt, you'll inspire kids to use their creativity and reasoning skills while also encouraging them to be socially and physically active.
There are so many different types of scavenger hunts and so many creative ways to organize them. Let's start with a few popular scavenger hunt categories:
You can create a treasure hunt for kids that leads them from one destination to the next through rhyming clues. Coming up with scavenger hunt clue ideas is easier than you think with the help of online resources.
You can create a photo-based scavenger hunt where kids compete to find and take pictures of designated items in the shortest amount of time.
You can even come up with virtual scavenger hunt ideas. An online scavenger hunt is one of our favorite rainy day kids' activities and a great way to bond with friends and family members who may not live nearby.
Ready to keep your kids on their toes? It's time to explore some fun and kid-friendly scavenger hunt ideas!
Treasure Hunt
A treasure hunt for kids is a classic scavenger hunt idea. Send players on a wild goose chase by having them follow a series of clues. Write the first clue on an index card. That clue then leads to the next clue, which leads to the next clue, and so on. At the end of the journey, they'll find their treasure!
Coming up with riddles for scavenger hunts can actually be a lot of fun for parents. You can adjust scavenger hunt clue ideas to be super easy for younger kids and a bit more challenging for big kids. Here's an example of birthday treasure hunt clues:
Clue #1: "You're 7 years old. A big hooray! Where's the place where you start your day?"
Clue #2 taped to bed: "You found your clue and you're on the trail. It's time to go get a hammer and nail."
Clue #3 taped to toolbox: "Excellent work. Don't stop now! What do you drink that comes from a cow?"
Clue #4 taped to milk container: "Your treasure is near, but first one chore. What do you use to sweep the floor?"
In broom closet: Surprise your kid with balloons and a "treasure trove" of gifts, treats, and snacks—including delicious, kid-approved Welch's® Fruit Snacks. Kids will get a kick out of being rewarded for successful completion of their scavenger hunt game!
Mall Scavenger Hunt
If you're looking for scavenger hunt ideas for kids that are older, try an indoor scavenger hunt at the mall. Split kids into two groups and have them walk around and photograph certain items. Then meet at a designated spot like the food court and see which team captured the most pictures the quickest. What are good things to include in a scavenger hunt at the mall? Try these:
Find and photograph each of the following clothing items: A polka dot dress, a shirt with an animal on it, a pair of sparkly shoes, and a red purse.
Which store is having the best sale in the mall today? Take a picture of the percent off sign. The team who finds the highest percent off will get an extra point.
Try on the silliest hat you can find and take a picture.
Find a store that is closed and take a photo.
There are so many other scavenger hunt ideas for the mall. Just use your imagination!
Shapes & Colors Scavenger Hunt
In search of scavenger hunt ideas for younger kids? Try creating a fun scavenger hunt game that doubles as an educational experience. Help little ones learn shapes and colors by having them point out corresponding items. This can work as either an outdoor scavenger hunt or indoor scavenger hunt, depending on the weather. Some examples:
Shapes: A circular tire, a rectangular sign, a triangular flag, etc.
Colors: A blue car, a red stop sign, a yellow bus, etc.
The list for scavenger hunt ideas for little kids is endless. Bring along Welch's® Fruit Snacks to fuel their fun!
Nature Scavenger Hunt
This outdoor scavenger hunt is always a hit with kids. You can do it in your own backyard, on a family walk, or on a trip to your local park. Bring along a list for scavenger hunt items to be found, such as ladybugs, certain types of birds, dandelions, and more. See which family member can find the most items.
Don't forget to bring reusable water bottles and easy-to-tote snacks, like individually packaged Welch's® Fruit Snacks.
Online Scavenger Hunt
Who says a treasure hunt for kids can only be done in person? It's easy to set up an online scavenger hunt by inviting friends to a video meeting. Here's one of our favorite virtual scavenger hunt ideas.
A moderator creates a list of household items to be collected and shares the list on their screen just before gameplay begins. The players then race around their homes to gather the featured items and show them on their screens. Items could include a teddy bear, a potholder, a remote control, a piece of fruit, and so on.
Holiday Scavenger Hunt
It's fun to put a holiday spin on scavenger hunt challenges to turn them into festive family activities. It's also a great way to create lasting memories. Try these fun ideas for kids scavenger hunt strolls with the family:
Halloween scavenger hunt ideas: While out trick or treating, try to spot the following: A skeleton, a black cat, a zombie, and so on.
Mother's Day or Father's Day scavenger hunt ideas: Help your child write clues for mom or dad and set up a trail. At the end of the trail, place a hand drawn picture from your kid along with their gift for Mom or Dad.
Christmas scavenger hunt ideas: While checking out neighborhood light displays, try to find an elf, a gift, a reindeer, a snowman, etc.
Hopefully we inspired you with our scavenger hunt ideas for kids.
Consider including Welch's® Fruit Snacks when planning your next kids' scavenger hunt. They make great snacks for family game night and are the perfect on-the-go choice for any outdoor adventure. Check out the full lineup today