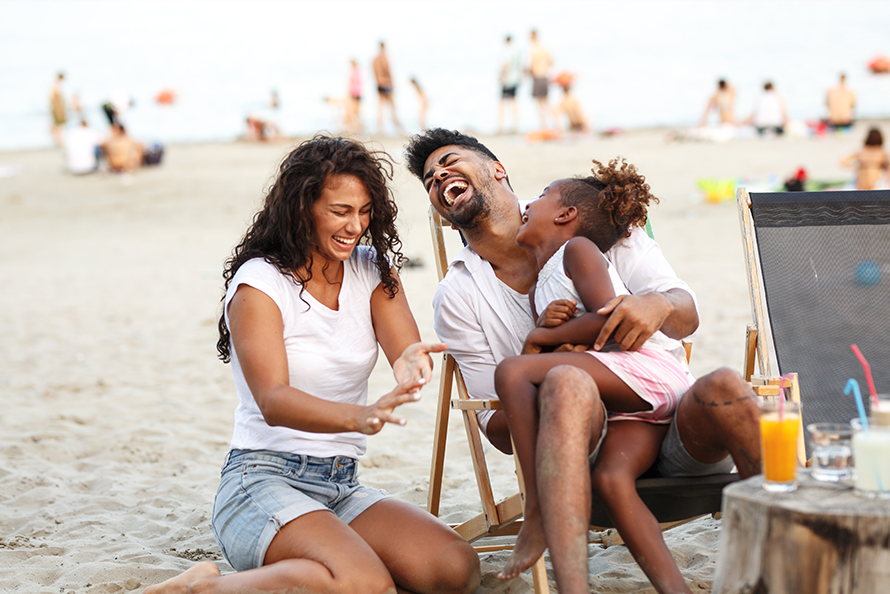 Hitting the beach soon with your family? It's all about the sun, the sand, the surf…and the snacks! We've rounded up a list of snack ideas for the beach to keep kids content and having fun in the sun. So, let's get into it!
Best Beach Snacks
Kicking off our list of the best snacks for the beach, we have:
Fruit Salad. Always a refreshing option! Cut up different types of fresh fruit, put it in a resealable container, and serve in individual plastic cups.
Bagel Chips: These beach day snacks offer a satisfying crunch and are fun to munch on while watching the waves.
Snack Bars: Handheld snacks are always a smart idea. Avoid chocolate-coated varieties to minimize melting.
Welch's® Fruit Snacks: Made with real fruit, these easy beach snacks are available in single-serve pouches for on-the-go convenience.
 Animal Crackers: These beach snacks for kids come in fun shapes to inspire smiles all around.
Gluten Free Beach Day Snacks
If there are kids in your group who are living a gluten-free lifestyle, consider these allergen-free snack ideas for the beach.
Potato Chips: Most potato chips are naturally gluten free, making them one of the best snacks for the beach when there are potential dietary restrictions.
Gluten-Free Crackers: These are the perfect non-messy beach day snacks for gluten-free kids. They're also fun to dip into individual cups of peanut butter for a protein kick.
Dry Cereal: Dry, gluten-free cereal is another one of our favorite snack ideas for the beach. Seal it inside individual zip-lock baggies for convenience.
Welch's® Fruit Snacks: Available in multiple flavors, these gluten free snacks are an excellent source of Vitamins A, C & E.
Yogurt Tubes: These kid-approved easy beach snacks are good to go straight from the cooler. Be sure to check the label to confirm that all the ingredients are gluten free.
Dairy Free Snack Ideas for the Beach
Wondering what snacks to bring to the beach for dairy-free kids? Try these ideas:
Squeezable Applesauce Pouches: These are typically dairy free and conveniently shelf stable—so you won't need to worry about how to pack snacks for the beach in a way that will keep them cold.
Granola Bars: Granola bars are one of the best beach snacks because they don't require refrigeration. Just make sure all the ingredients on the label are dairy free.
Welch's® Fruit Snacks: These delicious, dairy free snacks are the perfect allergen-free choice for your next trip to the beach. There's a flavor for everyone!
Popcorn: Another classic choice in any list of beach snacks for kids is popcorn. We recommend buying it in individual bags.
Pretzels: Whether individually packaged or in a large shareable bag, pretzels always offer the perfect salty crunch.
Beach Lunch Ideas
By packing your own lunch, you'll avoid waiting in long lines and trying to balance an armful of greasy food while walking across hot sand. You'll also save a ton of money.
Let's take a look at what to eat at the beach when lunchtime rolls around. Some kid-friendly beach lunch ideas include:
Ham & Cheese Sandwich: When it comes to easy beach food for lunch, it doesn't get much easier than a sandwich made with ham and cheese. Pack sandwiches in a cooler to avoid melted cheese.
PB&J: Peanut butter and jelly sandwiches work well for the beach because you don't have to worry about spoilage in the sun.
DIY Sandwich Kit: One of our favorite beach snack ideas for picky eaters is a deconstructed sandwich kit. Fill each section of a divided container with different sandwich ingredients, such as rolled-up turkey, cheese cubes, and crackers.
Corn & Black Bean Salad: If you want to avoid mayo-based salads due to the heat, try a corn salad made with sweet corn, chopped tomato, black beans, diced red onion, and your favorite seasonings. It's an easy beach food the whole family will love.
Pasta Salad: Pasta salad with a vinegar-based dressing also makes our list of beach lunch ideas. Add fresh veggies, such as carrots and bell pepper, and top with a less-melty cheese such as grated parmesan.
Snacks for a Beach Party
Having your child's birthday party at the beach? Your party guests will love these festive summer beach snack ideas.
Cheddar Crackers: Fill a plastic beach pail with fish-shaped cheddar crackers. Kids can use a shovel to scoop them into individual cups.
Starfish Cookies: Turn star-shaped cookies into fun snacks for a beach party by adding edible googly eyes. You now have adorable starfish!
Umbrella Cupcakes: Stick paper umbrellas into birthday cupcakes for easy and adorable toppers, and dot each cupcake with Welch's® Fruit Snacks for some extra color and a mouthwatering taste. Themed summer beach snack ideas don't need to be complicated!
Marshmallow Rice Squares: Give them a beachy makeover by piping on blue icing to look like waves.
Beach Bag Packing Hacks
In addition to beach day snacks, it's also helpful to think ahead about packing your beach bag. To maximize space and make life easier, try these tips:
Roll your beach towel tightly and place it at the bottom of your bag to serve as a base. For less bulk, consider buying a thin, microfiber travel towel.
 It may seem obvious, but wear your beach hat and sunglasses to the beach rather than packing them in your bag. Every inch of extra room counts.
Seal sunscreen in a plastic zip-top bag to keep things clean—and stash it in an external pocket if your bag has one.
Pack a cosmetic case or small zippered pouch with essential items like keys, cash, medication, and your phone. This "bag inside a bag" will keep those items contained and you can grab it separately when heading to the restroom or food vendors.
Look for backpack-style beach chairs with pockets so you can stash extra items in your chair as opposed to your beach bag.
Freeze water bottles to serve as ice packs. As they start to melt, you'll have super-cold water to drink. Hydration is key!
We wish you the best beach day ever, filled with the best food. For beach outing dates that are coming up on your calendar, remember to pack your favorite Welch's® Fruit Snacks!