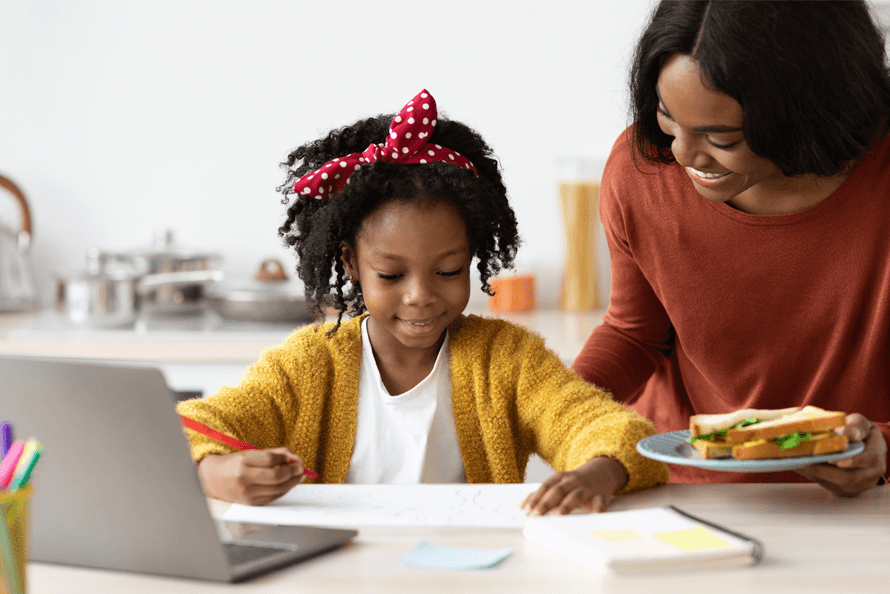 Is your kid getting ready to hit the books for a big test? Don't forget the snacks!
Brain-boosting snacks can help your child stay focused and motivated while they're poring through their notes or flipping through those flashcards. But not all snacks for studying are created equal.
In this post, we explore some of the best snacks to eat while studying that kids are sure to love, along with breakfast ideas, test preparation tips, tips for exam day, and more. Ready to ace your snack game? Read on!
Snacks for Studying
Do snacks help with studying? The right ones can! While it's easy for kids to gravitate towards candy, sugary drinks, and greasy chips, it's best to find a balance between junk food and better-for-you options that still manage to be tasty. Here are some of favorite snacks for studying that fit that bill:
Greek yogurt.

Packed with protein, Greek yogurt is a great way to keep kids satiated. Let them customize their yogurt with fresh fruit, chopped nuts, or a sprinkle of cinnamon.

Cereal.

Go for whole grain cereal that isn't overly sugary. Look for an option that contains

fiber, vitamins, and minerals while still being

kid approved. They can eat it plain as a dry snack or add milk for a dose of protein.

Granola.

Whether store bought or homemade, granola is the perfect choice for

eating while studying

. It delivers whole grains and protein through rolled oats, nuts, and seeds. Plus, it's another option that's completely customizable.

Smoothie.

A fruit smoothie is a refreshing, kid-friendly way to deliver vitamins, minerals, and hydration. Add protein powder to keep hunger at bay longer, or sneak in some spinach for extra nutrients.

Peanut butter and jelly.

It's not just for lunch! PB&J on wholewheat bread is one of the best snacks to eat while studying because it satisfies the sweet tooth while also offering a combination of whole grains, protein, and healthy fats.

String cheese.

A perennial kid favorite, string cheese keeps hands busy while kids take in information. Plus, it's undeniably fun to eat. Pair it with whole grain crackers for some fiber and crunch.

Fruit.

Fruit is always a great snack option, especially for post-dinner study sessions. It's a light dessert that provides both refreshment and sweetness—making it one of the best late night study snacks.
Test Preparation Tips
Help your kid rock their next test with these simple tips:
Know your child's learning style

. How to study for exams is different for each kid depending on their learning style. Determine whether your child is an auditory or visual learner—or maybe they respond better to quietly reading through their study material or writing things down. You can help guide their study process accordingly.

Plan in advance.

Advise kids not to save all their studying for the last minute. If there's a big exam at the end of the week, have them review their notes a little bit each night and then refresh their knowledge the night before the test. Consider adding blocks of "study time" to the family calendar to stay on track.

Reduce distractions.

Have your child put down their phone and turn off the TV. You can also try designating a specific spot for studying away from household noise—such as their bedroom or a parent's home office.

Encourage a good night's sleep.

Make sure kids don't stay up too late the night before the test. A good night's sleep will allow your child's brain to process all the information they just took in and will help them stay alert the next day.
Tips for Exam Day
It's the morning of the test and you want to send your child off to school well prepared and positioned for success. Here are some helpful tips for exam day:
Have kids eat a healthy breakfast.

A nutritious breakfast on the morning of a big test can help improve your child's concentration, enhance cognitive function, and provide the mental boost they need to perform at their best. Think of breakfast as the ultimate brain food for memory
When it comes to what to eat on exam day, try options that balance carbohydrates, protein, and healthy fats—such as oatmeal with berries and nuts; avocado toast; or a veggie omelet with multigrain toast.
Make sure they stay hydrated.

Another one of our tips for exam day is to make sure your child is well-hydrated. Good hydration can promote clear thinking and prevent kids from feeling sluggish throughout the day. Be sure they don't forget to bring their refillable water bottle to school that day.

Offer last-minute test preparation tips.

Help kids de-stress by practicing relaxation techniques, such as deep breathing, and remind them to take deep breaths again if they're feeling anxious right before the test begins. Make sure they have sharpened pencils and any other materials they might need.

Send along brain food snacks.

If your child's test is later in the day, or if they need an extra boost, send along packaged study snacks for energy that are easy to take on the go, such as individually packaged trail mix or a protein bar.

Pack up a post-test treat.

Consider sending your child to school with post-exam treats to celebrate a job well done. Wondering what to eat on exam day to add some fun once the test is over?

Welch's

®

Fruit Snacks

are the perfect choice! Made with Real Fruit, these easy-to-tote snacks are an excellent source of Vitamins A, C & E and offer a delicious taste kids love.

Don't forget older kids.

If you're the parent of a college-age student, you may not be able to be there on the morning of their test—but that doesn't mean you can't be there in spirit. Send a care package filled with

snacks for college

that your favorite student can enjoy while studying or rushing off to a test.
Offer a combination of healthy snacks for college students and fun late night study snacks to keep kids fueled up and smiling. Mess free snacks like Welch's® Fruit Snacks are one of the best snacks to eat while studying because you can pop them in your mouth and keep your keyboards and papers clean. Plus, they're conveniently packaged for those cross-campus walks to class.
No matter what your student's age, unlock their full potential with the perfect snacks for studying. Explore all the delicious options from Welch's Fruit Snacks today!