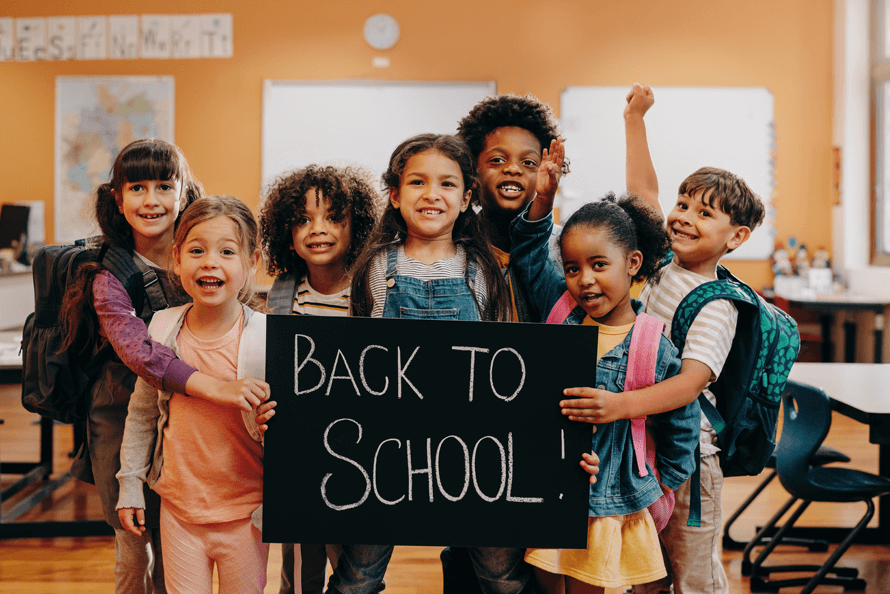 Do you hear that sound? The school bell is about to ring! That means it's the time of year when parents start thinking about the back to school items their kids will need for a successful return to school.
Our back to school guide is here to help your family ease the transition to the new school year with all the information you need on student supplies, new clothes, school essentials for lunch, and more. So, let's tackle that back to school checklist!
School Supplies List
The first thing on every back to school shopping list is school supplies.
Each school has their own way of sending out their requested school supplies list. Sometimes the previous year's teacher will send home a list of school supplies needed for the following year. Other times you'll get a letter in the mail or will need to check the school website.
While every teacher back to school list is different, here's what you can expect as a general rule of thumb:
Kindergarten and Elementary School
Kindergarten and elementary school supplies typically include pencils, a pencil sharpener, crayons, markers, glue sticks, safety scissors, composition notebooks, index cards, and folders.
 Middle School and High School
For middle schoolers and high schoolers, your back to school checklist of supplies will typically include binders, dividers, loose leaf paper, spiral notebooks, pens and pencils, highlighters, and more.
Specialty materials for school could include a graphic calculator, a protractor, headphones, a thumb drive, and specific art supplies such as a sketchbook or oil pastels.
If you're wondering: "Where can I get school supplies at the best prices?" You'll often find better deals in a brick-and-mortar retail store vs. online. While most people shop for supplies for school at big box stores or grocery stores, we recommend checking out office supply stores as well. They often have big back to school sales in the weeks leading up to the start of school.
Some families find it thoughtful to pick up a few back to school items for their teacher's desk as well, such as sticky notes, red pens, and highlighters. A small teacher gift can be a nice way to kick off the school year.
School Essentials for Your Kid's Closet
Before you go back to school shopping for clothes, take inventory of your kid's belongings, and see what needs to go and what can be reused. For example: Why buy a new backpack if last year's just needs a quick wash?
Assess which clothing items still fit and which have been outgrown. This is a great opportunity to teach kids about giving back by donating clothes that no longer fit to families in need.
Write down a back to school checklist of clothing items you may need to buy, such as:
Uniform pieces, if applicable
Jeans and pants
Shirts and tops
Dresses and skirts
Underwear
Shoes and sneakers
Socks and tights
Backpack
Lunchbox
Other potential materials for school, such as sports uniforms, hair accessories, jewelry, a new reusable water bottle, an art smock, and beyond.
Grocery Supplies for School
Next on your back to school checklist is groceries. You'll need items for school lunches, after-school snacks, and easy weeknight dinners. Let's take a look at each category.
In addition to sandwich ingredients like bread, condiments, lunchmeat, and cheese, consider adding other lunch options to your back to school shopping list. From soup to salads to chili, it's nice to switch things up to keep boredom at bay. Check out this list of creative school lunch ideas.
Parents know that kids and snacks go hand in hand. You've got lunchbox snacks, after-school snacks, playdate snacks, sports practice snacks, and so on.
Stock up on a variety of options like fresh fruit, as well as pre-packaged options that don't require refrigeration. Think granola bars, pretzels, crackers, and other kid-friendly packaged options like  Welch's® Juicefuls® Juicy Fruit Snacks. These mouthwatering snacks are an excellent source of Vitamins A, C, E as well as gluten free, allergen safe, and non-GMO.
Be sure to have convenient meal items on hand as well for those busy weeknights when you need to get dinner on the table quickly. Think pasta and sauce, stir-fry ingredients, steam-in-bag veggies, frozen pizza, and more. Another kid-friendly option is bacon and eggs. You've got to love breakfast for dinner!
Back to School Countdown
Congrats—your back to school shopping is done. And now the countdown begins! Here's a back to school guide on what to do as the first day of school approaches.
A Week or Two Before: Mentally Prepare
A great way of preparing for back to school is by getting kids back in the groove with their sleep schedules. Try to start bedtime a little earlier each night. Talk with them to ease any anxiety about the new school year, and set expectations about wake-up times, shower schedules, and homework.
A Few Days Before: Stock Your Kitchen
Take a trip to the grocery store to make sure your house is stocked with lunch items, snacks, and convenient weeknight dinner options for nights of heavy homework and sports practices.
The Night Before: Set Up Supplies
Take out all the student supplies you bought and label everything with your kid's name before loading their backpack. Don't forget to label and pack their favorite reusable water bottle. We also recommend selecting their first-day outfit beforehand to avoid any morning drama. Cut off tags and make sure it's wrinkle-free and ready to go.
The Morning Of: Pack It Up
You're ready to fill your kiddo's lunchbox! In addition to their sandwich and drink, be sure to include Welch's® Juicefuls® Juicy Fruit Snacks. Available in three yummy varieties including Mixed Fruit, Berry Blast, and Island Blast, these allergen-free snacks are always fun to eat and share with friends.
Consider including a special note in their lunchbox to wish them well on the first day of school. Grab a tissue and your phone as they head for the door. It's picture time!
We hope our back to school checklist has you feeling prepared for the new season. Wishing your favorite student a great first day!