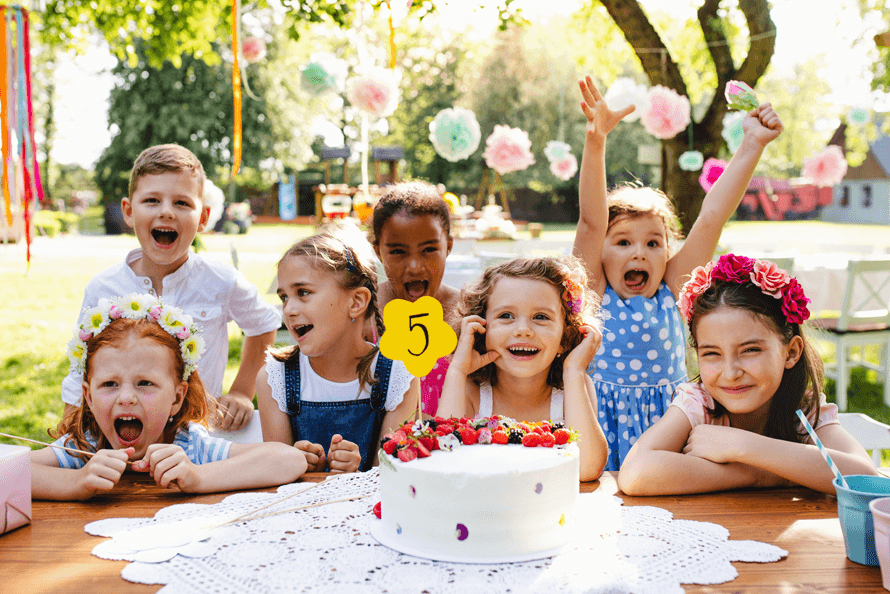 Birthday parties are one of the joys of being a kid. After all, what's not to love about presents, friends, and cake?
But for parents, thinking about how to plan a kids birthday party can be overwhelming. From when and where to host the party, to making the guest list, to buying party supplies, to picking out kids' birthday party favors, there are plenty of "to-do" items to tackle before the big day.
This article offers simple and creative birthday party goodie bag ideas to help you cross at least one of those items off your kids birthday party checklist. Ready to hand out the best goodie bags on the block? Then, let's get this party started!
Goodie Bag Ideas for Kids by Theme
Many parents like to choose goodie bag stuffers that align with their kids' birthday party themes.
While it's easy to find plastic novelty items for basically any theme, why not focus on party favors that are not junk? Both parents and kids will appreciate receiving items that can actually be used in the post-party world.
Here are some practical birthday party goodie bag ideas by theme that won't break the bank:
     

Beach theme – Put treats in a beach pail instead of a bag so it can double as a sand toy for their next trip to the beach.

     

Superhero theme – Give out a superhero mask or cape that can be reused for school dress-up days or a Halloween costume.

     

Princess theme – Similarly, gift guests with a crown or other princess accessory to add to their home dress-up trunk.

     

Fairy theme – Delight kids with a mini string of fairy lights that can be used to decorate their bedroom.

     

Hawaiian luau theme – Hand out puka shell bracelets or pineapple shaped straw cups that kids can reuse at home.

     

Spa theme – Give guests a cream face mask or other pampering surprises they can enjoy on their own.

     

Garden theme – Distribute seed packets or arrange goodie bag stuffers in a mini terracotta pot so kids can grow plants later on.

     

Animal or zoo theme – Send guests home with a mini animal plushie or boxes of animal crackers.

     

Baseball theme – Give guests packs of baseball cards and/or pouches of shredded baseball-inspired gum.
Universally Loved Birthday Party Goodie Bag Ideas
Goodie bag stuffers don't always have to fit a theme. There are plenty of birthday party goodie bag ideas that tend to be a hit for any type of party. Again, consider skipping plastic rings, bouncy balls, and temporary tattoos so that you can hand out party favors that are not junk. And of course, also consider your guests' ages. Some ideas include:
As we mentioned before, there are many ways to package kids' birthday party favors besides putting them in loot bags. Try these ideas for holding goodies, some of which work particularly well for certain themes—or can even double as a gift of its own:
       

Cup

       

Water bottle

       

Mug

       

Basket

       

Paper lunch bag

       

Gift bag

       

Cellophane wrapping

       

Cardboard box

       

Trinket box

       

Flowerpot

       

Popcorn bucket

       

Plastic pail

       

Pencil case

       

Small tote bag

       

Clear jars, and more.
Kids Birthday Party Favors for Older Kids and Teens
You may be asking yourself: Are party favors necessary for a kid's birthday once they reach their teen era?
We find that as kids get older, it becomes less about goodie bag stuffers and more about single take-home keepsakes—especially if it's for a milestone birthday party such as a Bar Mitzvah, Bat Mitzvah, Quinceañera, or Sweet 16. Here are a few of our favorite party favor ideas for kids once they reach their teen years.
Personalized DIY Party Favors
These days, customized DIY party favors are easy and inexpensive to make thanks to at-home vinyl cutting machines. You can either add the birthday kid's party theme or hashtag, or personalize items with your party guests' names. Some customizable party favor ideas for kids who are older include: 
       

T-shirts

       

Baseball caps

       

Visors

       

Water bottles

       

Sweatshirts

       

Sweatpants

       

Tote bags

       

Cosmetic cases

       

Or customize unique party favors, such as pillowcases, drink coasters, ornaments, and more. 
Tech Accessories
As an alternative to personalized items, consider sending teens home with tech accessories. These unique party favors can be less expensive than you think, especially if you buy them in bulk or order them well ahead of time on cost-saving online sites. Some tech-related kids birthday party favors include:
Make a Treat Buffet
Another one of our top birthday party goodie bag ideas is to create a self-serve treat buffet that guests can visit on their way out the door. With this option, you don't have to worry about how to make goodie bags or what to put in birthday goodie bags, because the kids will take care of that themselves!   
Simply provide empty bags and let kids choose from a wide variety of treats and easy snacks for kids. You can either serve loose treats that kids can scoop into clear plastic baggies or offer wrapped items that they can grab and put in a larger bag. Ideas include:
Have fun with your treat buffet by experimenting with different color schemes and presentation ideas. For example, use clear glass vases, platters, and mason jars of various heights to add visual interest to your table. Or go for a monochrome look with candy in a single color. Get creative and let your imagination run wild!
And that's a wrap on our list of goodie bag ideas for kids. We hope you found some options that are perfect for your next bash. For more birthday party goodie bag ideas, check out our full range of Welch's Fruit Snacks® today!