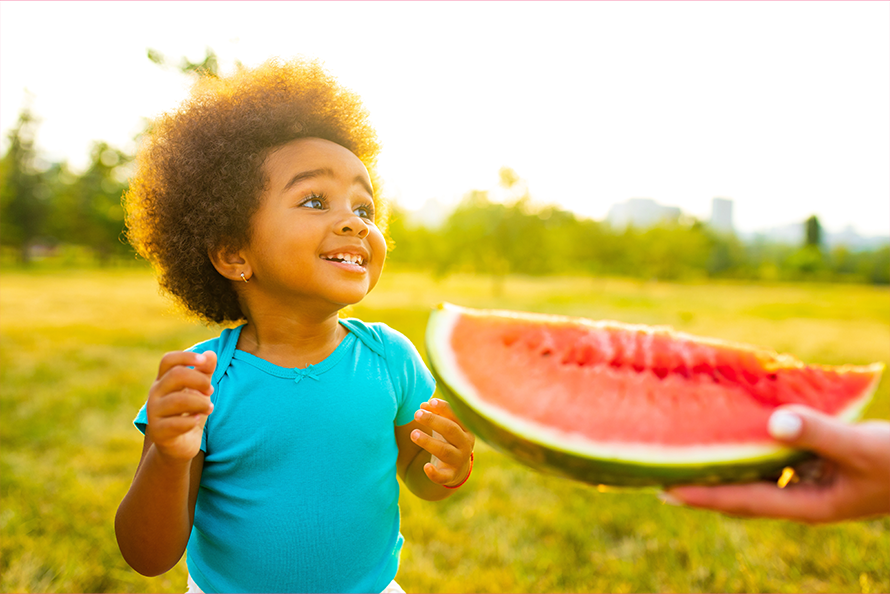 From backyard barbecues, to picnics in the park, to active days at summer camp, summer calls for snacks that are light, refreshing, and super kid friendly. That's why we put together this handy list of 20 cold snacks for summer.
We hope you find some refreshing snack ideas to help your family beat the heat this summer!
1. Popsicles
Kicking off our list of summer snack ideas, we have popsicles. When it comes to easy, refreshing snacks, it's hard to top this classic treat. Popsicles also make great outdoor snacks for hot weather if you're hosting a barbecue.
2. Frozen Fruit Bars
Next on our list of snacks for hot summer days is frozen fruit bars. A slightly more wholesome take on popsicles, frozen fruit bars contain pieces of real fruit and come in a huge variety of flavors for every taste. These treats are one of your best bets for quick summer snacks.
3. Yogurt
When it comes to easy snacks for summer or snacks for summer camp, look no further than yogurt. Just pop one in your kid's lunch box with a small ice pack and you're good to go.
4. Yogurt Drinks
Similarly, premade yogurt drinks make great snacks for hot summer days because they're light, portable, and super kid friendly.
5. Chia Seed Pudding
Looking for cold summer snacks that pack a healthy punch? Chia seed pudding is loaded with fiber and protein.
Start with ½ cup dairy or non-dairy cup milk and stir in 2 tablespoons of chia seeds, ½ teaspoon of vanilla extract, and 1 teaspoon of sweetener, such as honey or maple syrup.
Mix well and let it settle for 10 minutes until it starts to gel. Give it another stir, cover, and store in the fridge overnight. It will soon become one of your favorite cold snacks for summer!
6. Ice Cream
You can't have a list of cold snacks for summer without ice cream. Switch things up by trying unexpected toppings like Welch's® Fruit Snacks Summer Fruits, a delicious combination of summer flavors including watermelon, cantaloupe, blackberry, mango-peach, honeydew, and plum.
7. Smoothie
Great for at home or on the go, smoothies are one of our favorite cold snacks for summer.
Quick tip: Rather than ice, start with frozen fruit in a blender, then add milk and a scoop of protein powder to keep kids full.
You can try experimenting with different ingredients such as peanut butter or yogurt—or even sneak in some veggies to boost the nutritional value for picky eaters.
8. Overnight Oats
Overnight oats are a great option if you're looking for cold snacks for summer that can double as breakfast. Simply combine the following ingredients in a glass container such as a mason jar, cover with a lid, and place in the refrigerator overnight.
The ingredients: ½ cup rolled oats, ½ cup milk, 1/4 cup Greek yogurt, 1 tablespoon of honey or maple syrup, 1 tablespoon chia seeds, ½ teaspoon vanilla extract. You've got to love summer snacks for kids that are also healthy.
9. Vegetable Crudité
When planning snacks for summer parties, a vegetable crudité always fits the bill. If you don't have time to make a homemade dip, use ranch dressing, bleu cheese dressing, or onion dip made with sour cream and a packet of onion soup mix. So easy!
10. Baby Carrots and Hummus
If you prefer to take your veggies to go, pack up baby carrots with an individual cup of hummus. Veggies and dip make great summer snacks for kids when they head off to camp.
11. Celery and Cream Cheese
It doesn't get much more crunchy-cool than celery. Make it a kid-friendly snack by serving celery sticks alongside cream cheese for dipping.
12. Watermelon Wedges
One of the most refreshing summer snacks, watermelon has been a longtime staple at picnics and backyard barbecues for good reason. You can serve it as handheld wedges or even cut it into fun shapes with a cookie cutter (we like to do stars for Fourth of July).
13. Watermelon Salad
What we love about watermelon is that it's so versatile. Cube it up and make a simple salad with cucumber, feta, and mint. It's a great option to have in your rotation of appetizers and snacks for summer parties.
14. Chocolate-Dipped Strawberries
Another option for summer entertaining is chocolate-dipped strawberries. Simply dip whole strawberries in melted chocolate, lay them on a baking sheet lined with wax paper, and refrigerate uncovered for at least 30 minutes.
15. Pita Sandwich
If you're looking for easy snacks for summer that will also work for lunch, try a pita sandwich. Use a mini pita pocket for snack time and a full-size pita for lunch. Simply stuff the pita with your favorite lunch meat, cheese, and condiment of choice, then add iceberg lettuce for a cool crunch.
16. Sandwich Rollups
Similarly, you can create sandwich rollups by rolling up lunch meat, cheese, lettuce, and condiments in a flour tortilla. Kids will love to help you make these quick summer snacks.
17. Tuna Salad Wraps
For a cool crunch at lunchtime, take a large lettuce iceberg leaf and fill it with tuna salad and sliced tomato. These summer snacks for kids are another great lunchbox choice for camp.
18. Tomato Mozzarella Skewers
Continuing the theme of cold snacks for summer parties, here's a fun, handheld appetizer. Thread a bamboo skewer with alternating fresh mozzarella balls and cherry tomatoes. Add a basil leaf in between each one for extra color. Spray each skewer lightly with olive oil and sprinkle with salt, pepper, garlic powder, and basil.
19. Fruit Kebabs
Another fun skewer idea is fruit kabobs. Just thread a bamboo skewer with alternating pieces of fruit, such as pineapple, strawberries, melon, and so on. Fruit kebabs are a great light dessert and an easy option when searching for refreshing snack ideas.
20. Welch's® Fruit Snacks
The perfect allergen-free snacks for summer camp, Welch's® Fruit Snacks are individually packaged and ready to pop in your camper's lunchbox. Made with real fruit, they're an excellent source of Vitamins A, C & E. Try the Summer Fruits variety for a fun nod to the warm weather season.
May our list of cold snack ideas help you and your family stay cool this season. For the ultimate taste of summer, try Welch's® Summer Fruits Fruit Snacks today!