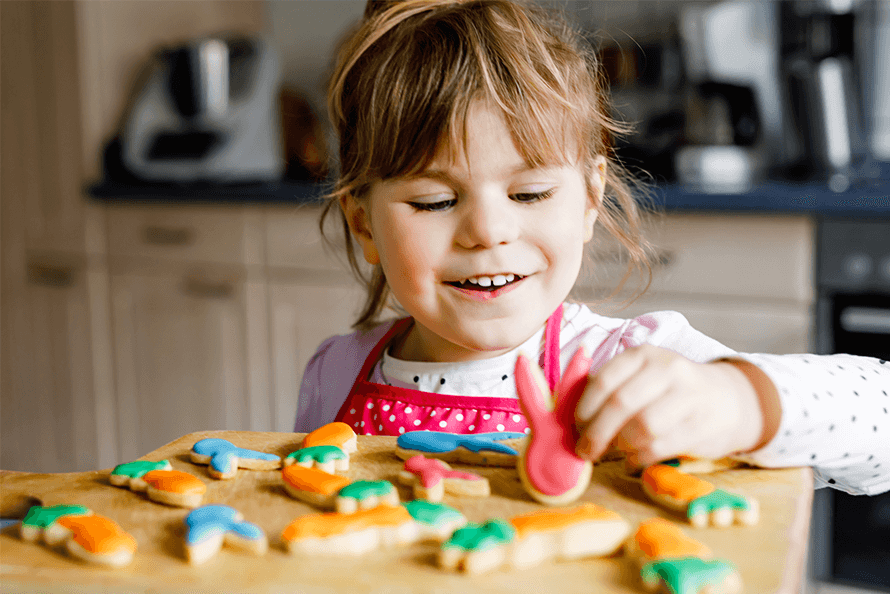 It's almost time for the Easter bunny to hop his way down that bunny trail. To help you celebrate spring with your little ones in a memorable way, we've put together this list of seven Easter snacks that will make you hoppy. Whether you're having guests over for Easter dinner, bringing in treats for a classroom party, or hosting an egg hunt for neighborhood kids, we hope you'll find fun snacks for Easter that are just right for you and your family. So, let's hop right in!
1. Easter Bunny Cake
This one is one of those festive Easter desserts that many families make every year. Use your favorite boxed cake mix to bake two 9-inch round cakes. One cake will become your bunny's head. The other cake will become your bunny's ears and bowtie. When the cake is cool, use a knife to cut out a curved ear on both the right and left side of the cake. The center piece that's left over should be shaped like a bowtie. Frost the head completely, then arrange the ears and bow tie in their proper spots. Frost those pieces and begin decorating with Easter candy, Easter fruit snacks, and other edible items. There are so many options here. Shredded coconut for fur, chocolate chips to draw a mouth, and Welch's Fruit Snacks® for the eyes and nose.
2. Carrot Cones
Want a cute way to get kids to eat their "veggies?" These carrot-shaped treat bags are one of our favorite fun snacks for Easter. Simply buy clear, disposable cake decorating bags in a small size. You'll notice they're cone-shaped, which make for the perfect carrot silhouette. Fill the bags with orange-colored goodies, such as cheese puffs, cheddar popcorn, or fish-shaped crackers, then tie on top with a green curly ribbon. These are fun school Easter party snacks for kids that make a statement in the classroom. You can personalize them by adding a name tag to each one. They also make great basket stuffers for Easter, offering a salty, crunchy alternative to all that candy. Just place them right on top of their basket so the contents of the baggies don't get crushed.
3. Veggie and Hummus Pots
If you're looking for healthy Easter snacks for kids, try these adorable veggie and hummus pots. Buy some mini terracotta pots, fill each one with hummus, and then add some fresh veggies on top to resemble a vegetable patch. We like to "plant" a broccoli floret or a baby carrot in each pot. For the carrot, cut a small hole on top and insert a spring of fresh parsley to look like a green carrot top. Kids will get a kick out of dipping their veggies in the hummus, making these Easter snacks for kids a clever way to get in those nutrients.
4. Bunny Brie
When it comes to Easter snacks, this appetizer is sure to inspire smiles from your guests. Simply take a wheel of brie and insert two baby carrots for the ears. The carrots labeled "petite" will work best as they're longer and easier to insert. Some people like to slice the carrots lengthwise first. Get creative when making the eyes, nose, and whiskers by cutting up items like olives, bell pepper or celery. The possibilities are endless! Have a cheese knife on hand and serve alongside crackers or pita chips on your appetizer counter or dinner table. You can also make mini versions of these bunnies to serve individually. Simply use a small round snack size cheese and scale down the size of your bunny's features.
5. Easter Basket Pudding Cups
These kids snacks for Easter Sunday will definitely be memorable. And they're so simple to make! All you will need are pudding cups, cookies, sprinkles, and Easter candy. Take vanilla pudding cups, crush up your cookies of choice, and stir them in the cups to create texture. Add some green sprinkles on top to give the appearance of grass. Next add some colorful jelly beans to look like Easter eggs. For the basket handle, bend a licorice stick and insert it into the cup. Not a jelly bean person? Chocolate eggs work well, too. Speaking of chocolate, you can also use a chocolate pudding cup and crushed chocolate-and-cream cookies in place of the vanilla.
6. Marshmallow Kebabs
Next on our list of Easter snacks—marshmallow kebabs! Simply take a wooden skewer and thread it with various types of soft treats, such as jellybeans, gumdrops, Welch's Fruit Snacks®, Welch's Juicefuls®, licorice bites, and more. Top it off with an iconic marshmallow chick or bunny for a cute and colorful treat. To turn these candy kebabs into healthy Easter snacks for kids, simply use fruit instead—such as grapes, strawberries, kiwi, or pineapple chunks. Then top off each skewer with a marshmallow chick or bunny to amp us the cuteness factor.
7. Flower-Shaped Cookies
Nothing says springtime like flowers—so bake up these favorite holiday treats to welcome the season! Just roll out some sugar cookie dough and use a flower-shaped cookie cutter to shape your cookies. Bake according to directions and let the cookies cool. Tint white icing with food coloring to make different pastels, like pink and yellow. Frost your cookies and press a Welch's® Fruit 'n Yogurt™ Snack in the center of the petals while the icing is still a bit sticky. To make these sweet snacks for Easter even easier, use store-bought cookie dough. Cookie decorating is always a big hit with kids, and a great way to bond as a family.
And there we have it! We hope you were inspired by our roundup of Easter snacks that will make you hoppy. By adding a little extra flair and creativity, you can make lasting memories for your kids that can become traditions for years to come.
If you're looking for non-candy Easter egg hunt snack ideas or Easter basket ideas, look no further than Welch's Fruit Snacks®. An excellent source of Vitamins A, C & E, these allergen-free snacks are made with Real Fruit and offer a mouthwatering taste kids love. Plus, the pouches are the perfect size to fill plastic eggs! Wishing you and the people you love a wonderful spring season.