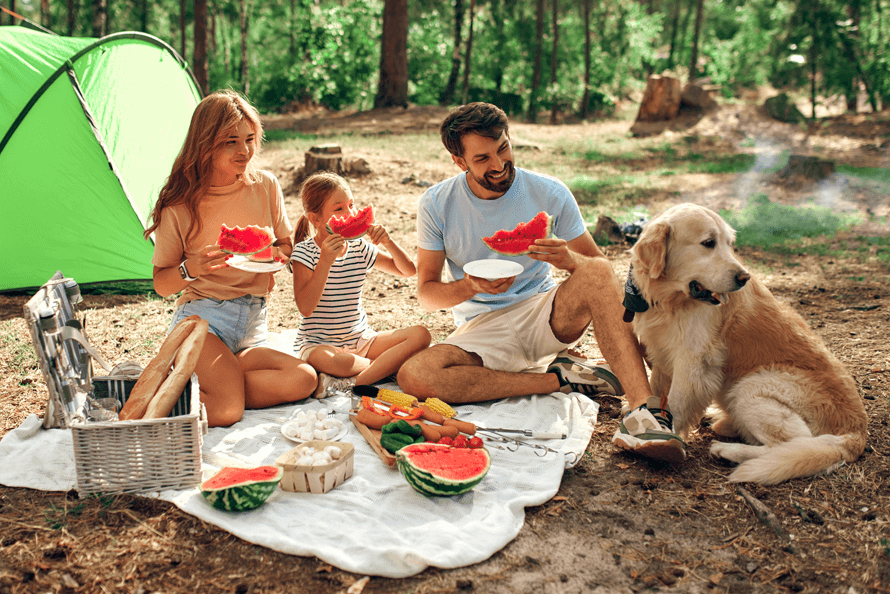 A family picnic is a great way to get off our phones and press pause on our busy schedules in favor of fresh air and fun in the great outdoors. It's an easy and inexpensive family activity that is all about togetherness—and, of course, yummy food.
But what should you pack and how do you keep kids entertained once you're there? From simple picnic food ideas to fun picnic games for families, we're here to make your next picnic a major hit for all ages. So, grab your basket. It's time to unpack some of our favorite family picnic ideas.
Simple Picnic Food Ideas
Let's start with the main attraction—food! Kids often love helping to plan the menu, make a dessert, pack up the basket, and set up the blanket area once you get there.
When you're a busy family juggling school, work, and kids' activities, it isn't always realistic to plan an elaborate meal. Here are some simple picnic food ideas and easy picnic food to buy so you can avoid a ton of prep.
 

Picnic finger food. 

Minimize the need for utensils with picnic finger food that can be served at room temperature, like mini quiches, cocktail meatballs on toothpicks, and pigs in a blanket. Fried chicken is another classic picnic finger food that can be served hot or cold.
You can also serve cold picnic finger food that you pack in a cooler, like tomato and mozzarella skewers, deviled eggs, and watermelon feta kabobs.
Sandwiches.

 Since you'll likely have a variety of food options, opt for mini sandwiches so that everyone has room to sample a little bit of everything. Try ham and cheese rollups made with tortillas, mini bagels with turkey and cheddar, or small flatbreads with your toppings of choice.

Grilled food.

 If your picnic site has a charcoal grill on hand, you can always cook up classic grilled food like burgers, hot dogs, and corn on the cob. Don't forget to bring the fixings!

Salads.

 A salad is always the perfect side dish. Make a green salad to get those veggies in or try a simple pasta salad made with a non-mayo-based dressing.
Here's an easy pasta salad recipe that kids can help with: Mix tri-color rotini pasta with Italian dressing, parmesan cheese, and your choice of add-ins such as halved cherry tomatoes, sliced bell pepper, and olives.
If you opt for mayo-based salads such as potato salad, macaroni salad, or coleslaw, just be sure to pack them in a cooler and keep them out of the sun.
Snacks. 

You'll also need snacks for a family picnic to munch on before or after the main meal or while you're playing games. Look for easy picnic food to buy, like chips, mini muffins, and kid-approved

 

Welch's

®

 Fruit Snacks

.

Desserts.

 No family picnic is complete without a sweet dessert to cap off the experience. We recommend items that aren't covered in frosting to minimize mess. Try brownies, blondies, oatmeal raisin bars, or chocolate chip cookies. Bonus points if they're homemade!
What Should I Pack for a Family Picnic Besides Food?
Now that we've covered family picnic ideas for food, let's talk about other items to include on your picnic checklist. Some picnic basket essentials include:
Beverages and water bottles

Picnic blanket

Camping chairs for those who prefer not to sit on the ground

Plates, utensils & serving spoons

Knife for slicing

Salt & pepper

Cooler with ice

Trash bags

Wet wipes

Sunscreen

Bug spray

Reusable containers for leftovers
Outdoor Picnic Activities
What do you do at a family picnic once everyone has finished eating? We like to bring family game night outdoors with some memorable picnic games for families and other outdoor picnic activities. Wondering how to plan a family picnic that's extra fun for little ones? Try these ideas:
Scavenger Hunt. 

One of our favorite family picnic ideas

 

is to have a scavenger hunt. Create a list of nature-related items for your family members to find in the picnic area, such as squirrels, ladybugs, dandelions, birds, etc. Some other good

 

scavenger hunt ideas

 include trying to find items of specific colors or planning a treasure hunt where kids have to collect pine cones, sticks, and more.

Capture the Flag.

 You've got to love family picnic ideas and activities that keep kids moving and help them burn off energy. For Capture the Flag, split the family into two teams and designate territories with flags, such as a red flag area and a blue flag area. The goal is to capture the opposing team's flag and return it to your territory without being tagged by a team member from the opposing team.

Frisbee.

 What do you do at a family picnic if you want to keep things simple and bring minimal equipment? Playing frisbee or having a catch are classic

 

outdoor activities for kids

 that never go out of style. Challenge yourselves by counting how many times you can go back and forth without missing the ball or frisbee.  

Story Time.

 Another idea for your picnic checklist is to bring along a book and have a post-meal story time. Especially suited to younger kids, story time is one of those

 

family bonding ideas

 that are simple to execute but create lasting memories. For older kids, try making up a group story where someone starts with a few lines and then passes it off to the next person to continue the story.

Potato Sack Race.

 When it comes to classic picnic games for families, it's hard to beat a potato sack race. Grab some burlap sacks, mark off the finish line, and see which family member can hop there first. Potato sack races are always one of the best outdoor picnic activities for school picnics as well.
No matter which fun family picnic activities you choose, consider packing a small bag of prizes for each game winner. Fill a brown paper lunch bag with small items like stickers, bouncy balls, and conveniently packaged snacks for a family picnic like Welch's® Fruit Snacks. In addition to being delicious and kid-friendly, these picnic basket essentials are made with real fruit and are an excellent source of A, C, & E.
That wraps up our list of family picnic ideas! Make your next family picnic unforgettable by bringing along picnic-perfect treats from Welch's® Fruit Snacks. Explore our full lineup today.