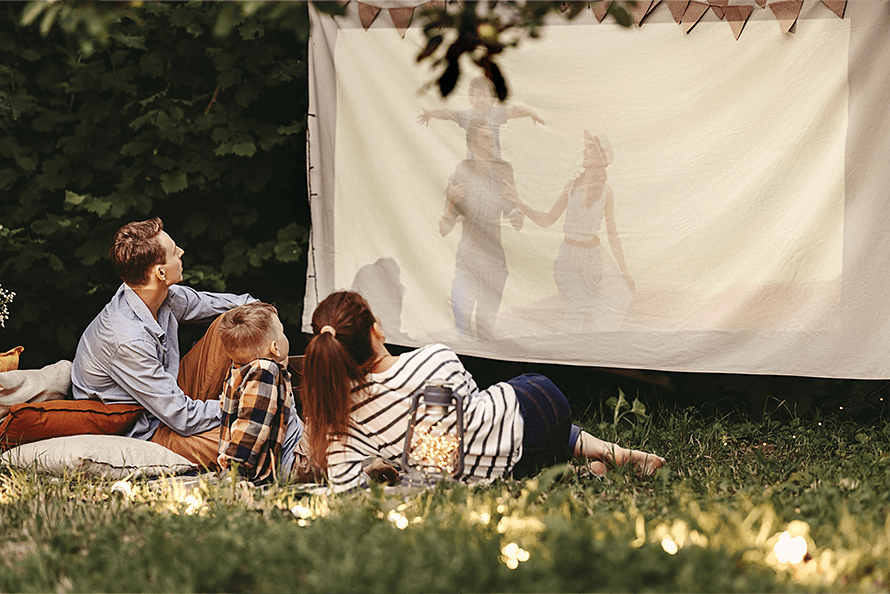 Watching a movie under the stars can be a truly magical experience. It can turn an ordinary family movie night into a special moment that kids will always remember. It's also a great option for your next party or playdate, making you the most popular family on the block!
Read on for some of our favorite outdoor movie night ideas along with tips on how to setup a movie night at home. From food ideas for movies to decoration inspiration, we've got you covered!
Set Up Your Outside Movie Theater
The first step in hosting an outside movie screening is to make sure you have everything you need from a technical standpoint. But don't worry—it's simpler than you may think! Here's what you'll need:
Screen:

For the screen, you'll need a smooth, flat surface. The simplest way to go is to use a white sheet, drop cloth, or tarp tacked to the side of your house or hung from a deck railing or clothesline. However, for a better viewing experience, we recommend building a simple frame or buying a foldable screen online. If you want to go all out, an outdoor movie night rental company can provide a large inflatable screen for the ultimate outdoor cinema experience.

Projector:

Next, you'll need a digital movie projector with HDMI connectivity. Ideally, you should look for one with a minimum of 2,500+ lumens for adequate brightness. While outdoor movie projectors vary widely in price depending on bells and whistles, they have come a long way in terms of bang for your buck. There is also the option of getting a projector from a backyard movie night rental company.
Speakers:

If you feel the built-in speakers on your projector aren't loud enough, you can connect an external speaker to your projector via cable or WiFi. There are many sizes and types available depending on your budget.
Here are some additional helpful tips for backyard movie setup.
Create a Fun Atmosphere
Next, it's time to create a comfortable viewing space. You can keep it simple or go all out—it's completely up to you!
Seating area:

Use whatever seating options you have on hand—and remember that mixing and matching is totally fine. Add a cozy combination of picnic blankets, cushions, and beanbag chairs. If you have some low-back beach chairs or lounge chairs, consider using them for grownups.
Decorations:

Looking for outdoor theater ideas that will amp up the atmosphere? String up fairy lights to illuminate walkways or hang paper lanterns from nearby trees. Add a chalkboard or poster board with the name of tonight's flick.

Extras:

Glow necklaces and bracelets can be a fun way to help kids find their way to the restroom or concession stand in the dark. Alternatively, you can set out a couple of flashlights. Extra blankets are great if it starts to get chilly. Oh, and don't forget the bug spray!
Serve Cinema Snacks
Let's be honest: One of the best things about an outdoor movie night is the snacks. It can be fun to create a backyard "concession stand" with popcorn, candy, beverages, and other treats. You can use a simple folding table covered with a tablecloth or get fancy by creating a Pinterest-worthy booth. Some food-related outdoor movie night ideas:
Popcorn:

Buy or rent an old-fashioned popcorn machine—or simply make some microwave popcorn and serve it in individual red-and-white striped popcorn boxes. Try a salty-meets-sweet flavor combo by mixing popcorn with

Welch's Fruit Snacks

®

, which come in a delicious combination of flavors the whole family will love.

Candy and treats:

Serve different types of candy in movie theater-style boxes along with other tasty single-serve goodies, like

Welch's

®

Fruit Snacks

. These treats are made with Real Fruit and feature an excellent source of Vitamins A, C & E.
Choose Your Movie
It's time to pick a family-friendly movie that works well in a "big screen" format. For outdoor movie ideas that kids will love, try a recent animated flick. You can also go with classic drive-in movie hits like Jurassic Park, E.T., The Karate Kid, or Back to the Future. Many hosts like to let guests vote on the movie ahead of time, but it's certainly not necessary!
Consider a Theme
Most outdoor movie nights don't need a theme. After all, the outdoor location provides a built-in theme of its own! However, an exception can be made for a backyard movie birthday party. It can be fun to bring in elements of the guest of honor's favorite things or come up with movie event ideas that tie in with the flick you're showing. Some examples of themed outdoor movie nights include:
Hollywood theme: R

oll out a "red carpet," which can be an inexpensive runner from a party store. Have the birthday kid sit in a director's chair and put a sign with their name on the back to make your screening area feel like a movie set. Hand out plastic sunglasses and take fun "paparazzi" pictures in front of a step-and-repeat. When it comes to outdoor movie nights for birthdays, this one is picture perfect.

Sports theme:

Another fun idea for a DIY movie themed party is a sports theme. This works great if you're watching a sports movie like The Mighty Ducks, Remember the Titans, Field of Dreams, or another sports-related title. Serve sports drinks and popcorn in plastic trophies. Hand out pom poms so guests can cheer when on-screen points are scored.

Royal theme:

For younger kids, consider a princess (or prince) themed cinema night. Show your kid's favorite movie or live action fairytale flick, and have each guest show up decked out in their best royal gear. Hand out crowns to guests and serve Welch's

®

fruit snacks

in plastic teacups during the movie.
Were you inspired by our outdoor movie night ideas? We sure hope so! Don't forget to take a look at our lineup of Welch's® Fruit Snacks for your next outdoor movie night. Now sit back, relax, and enjoy the show!