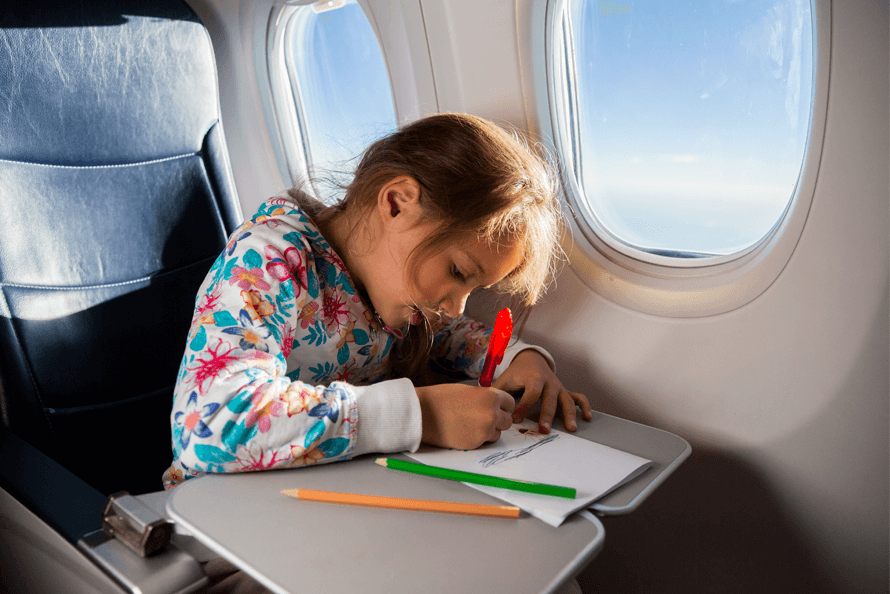 Heading to the airport for your next family adventure? Don't wait until you're 35,000 feet in the air to think about the best airplane snacks to bring. There are so many reasons to pack your own snacks for flights ahead of time, especially when flying with kids. You'll save time, save money, and ensure you have the perfect snack options to keep your little snack monster happy and engaged.
First thing's first: Can you bring snacks on an airplane? The answer is yes, as long as you're bringing solid items. Liquid or gel food items larger than 3.4 oz won't make it through the TSA security checkpoint, so be sure to pack accordingly.
Without further ado, here are 25 of the best airplane snacks for kids.
1. Mini Muffins. We find mini muffins to be the perfect kid-friendly airplane snacks. Why? They tend to be moister than full-size muffins and are made to pop in the mouth, which means less crumbs.
2. Animal Crackers. These airplane snacks for kids are always a hit thanks to their fun shapes. We love that they're dry to the touch to keep hands and faces clean.
3. Welch's® Fruit 'n Yogurt™ Snacks. If your kid loves yogurt but you don't want to deal with confusing TSA rules for liquids, then Welch's® Fruit 'n Yogurt Snacks are the perfect solution. Made with real fruit surrounded by creamy yogurt, these airplane travel snacks are a good source of calcium and Vitamin D and come in three yummy flavors.
4. Celery Sticks and Peanut Butter. Looking for healthy travel snacks for children? Put cut-up celery sticks in airplane snack containers and serve with individual cups of creamy peanut butter for dipping. Most store bought peanut butter to-go packs are between 1-2 oz.—well under the 3.4 oz. limit.
5. Sandwich Rollups.  These make the best airplane snacks because they can also double as lunch if your child isn't crazy about the in-flight meal. Use a flour tortilla, a couple slices of cheese, and your favorite lunch meat, such as turkey, ham, or roast beef. Roll up and you're good to go!
6. Rice Cakes. If you like snacks for flights that are light and not too filling, rice cakes are a good bet. Try different flavor options, such as apple cinnamon, caramel, or cheddar.
7. String Cheese. Always fun to peel and eat, string cheese is one of the best travel snacks for children.
8. Cereal. Every kid has a favorite cereal. Skip the milk and let them eat it by the handful as a familiar pick-me-up snack.
9. Peanut Butter Sandwich Crackers. Continuing our list of airplane snack ideas, we have peanut butter sandwich crackers. These kid-friendly airplane snacks offer up a dose of nostalgia and are always a great choice for travel.
10. Baby Carrots and Hummus. Fill airplane snack containers with baby carrots and serve alongside individual hummus cups. Just be sure the single-serve hummus cups are under 3.4 oz.
11. Fresh Fruit. When it comes to airplane snack ideas, you can't go wrong with nature's candy. Minimize mess with fruits that are less juicy. Think bananas and apples vs. oranges or berries.
12. Single Serving Nut Packs. Individual bags of nuts make great airplane travel snacks. In fact, peanuts were once the go-to snack given out by every airline. They aren't always available on board these days, so consider bringing your own. Switch it up by swapping peanuts for walnuts, almonds, or cashews.
13. Pretzels. Just like peanuts, pretzels were once a staple given out by many airlines. Since that's not always the case these days, bring along your own individual pretzel baggies. They're still one of the best snacks for airplane travel and a great choice for picky eaters.
14. Granola Bars. Grab-and-go granola bars are great airplane snacks to bring on your next trip. You've got to love non-messy handheld options that minimize spills and crumbs.
15. Welch's® Fruit Snacks. The perfect allergen-free travel snacks for children, Welch's® Fruit Snacks are made with real fruit and are an excellent source of Vitamins A, C & E. Available in convenient single-serve pouches, you won't have to stress about how to pack snacks for an airplane. They're pre-packaged and ready to go!
16. Popcorn. Don't forget the popcorn if you're planning to watch an in-flight movie. It's one of the best airplane snacks for adults and kids alike.
17. Protein Bars. Another one of the best airplane snacks that will appeal to both parents and kids, protein bars will keep everyone full, and can serve as a meal replacement in a pinch.
18. Hard Boiled Eggs. Next on our list of the best airplane snacks is hard boiled eggs. These classic snacks pack a protein punch, which makes them one of the best airplane snacks for long flights. We recommend peeling them in advance, so you won't have to deal with messy shells.
19. Lollipops. Although they may not be the most nutritious choice, lollipops are one of the best kid snacks for airplane travel. Why? They keep kids occupied by taking a long time to eat—and can even soothe jitters and nausea.
20. Beef Jerky. This protein-rich choice is another one of the best airplane snacks for long flights. They're easy to throw in your bag and chomp on when you need to stave off hunger.
21. Baked Chips.  If you're looking for better-for-you snacks for flights, try baked chips. They offer a nice crunch without all the extra fat.
22. Veggie Chips. Similarly, try replacing traditional potato chips with veggie chips. They're crunchy, nutritious, and kid-approved.
23. Cookies. The perfect portable dessert, there's no question that cookies are kid-friendly airplane snacks. Parents have been known to steal one, too!
24. Bagels. Whether you bring it from home or buy it from a vendor near the gate, bagels are one of the best travel snacks for the whole family that can easily double as an on-the-go breakfast.
25. Welch's® Juicefuls® Juicy Fruit Snacks. Welch's® Juicefuls® Juicy Fruit Snacks are an excellent source of Vitamins A, C, and E as well as gluten free, non-GMO, and made with no preservatives. Going on a tropical vacation? Try the Island Splash variety to stay on theme!
We hope our list of the best airplane snacks for kids has you feeling ready for takeoff. Safe travels, and don't forget to pack our full lineup of Welch's® Fruit Snacks for your next flight.