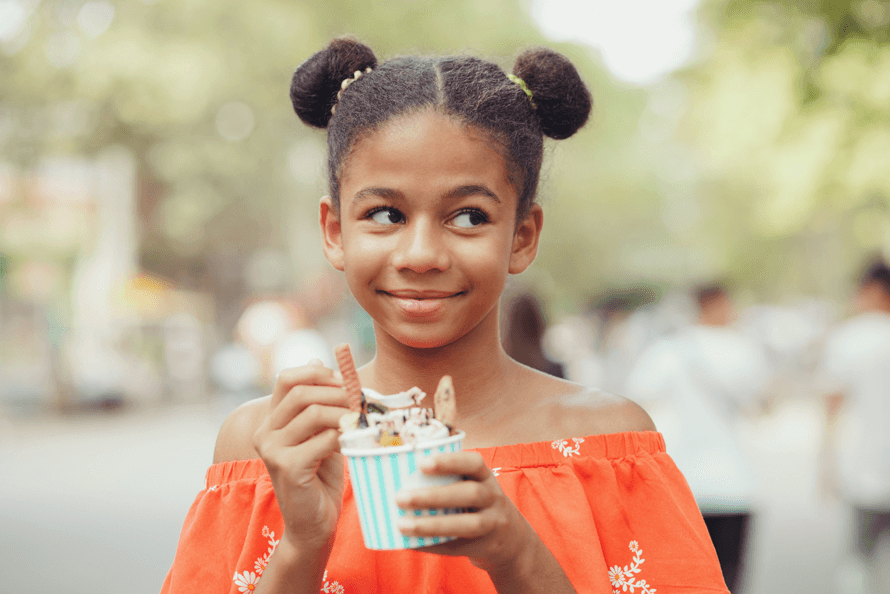 We all scream for ice cream. And it only gets better with toppings!
Whether you're hosting an ice cream social with guests or are simply stocking your home pantry, our list of ice cream toppings is sure to inspire you. So, grab a spoon and let's dive in!
Classic Ice Cream Toppings
What do you put on ice cream that the whole family will love? Let's start off with some of the more common ice cream toppings that have been classics for generations.
1. Sprinkles
Kicking off our list of the most popular ice cream toppings, we have sprinkles. In addition to the classic rainbow sprinkles and chocolate sprinkles, you can lean into seasonal colors, like green for St. Patrick's Day, red and pink for Valentine's Day, and so on.
2. Whipped Cream
Whipped cream is one of those ice cream sundae toppings that never goes out of style. It's pretty easy to make yourself, but the canned variety is always fun for kids to dispense. Plus, you can add it to your rotation of dessert toppings for pie, cake, brownies, pudding, and more.
3. Maraschino Cherries
We can't mention whipped cream without mentioning cherries—specifically maraschino cherries. No list of ice cream sundae toppings would be complete without them.
4. Chocolate Syrup
It goes without saying that another one of the best ice cream toppings is chocolate syrup, otherwise known as chocolate sauce. It's great to have in the house since you can also use it to make chocolate milk.
5. Hot Fudge
For a texture that's a little bit thicker and gooier, you've got to go with hot fudge. It's considered one of the best toppings for ice cream since it offers the perfect warm/cold contrast. 
6. Caramel Syrup
If you're not a chocolate person, give caramel syrup a try. It pairs particularly well with plain vanilla ice cream and is essential to any list of ice cream toppings.
7. Peanut Butter Drizzle
If you're looking for the best ice cream toppings for peanut butter fans, you've found it. Peanut butter drizzle, sometimes called peanut butter syrup or peanut butter sauce, is the perfect complement to chocolate ice cream.
8. Marshmallow Topping
Marshmallow topping for ice cream is a fluffy, yummy option that comes in either a jar or a whipped cream-style can. It can be a good alternative to whipped cream.
9. Walnuts in Syrup
Next on our list of the best ice cream toppings is walnuts in syrup, also known as wet walnuts or walnut topping. It's usually made with chopped walnuts marinated in maple syrup or simple syrup.
10. Bananas
Slice a banana lengthwise for a classic banana split or cut it into wheels for a smaller sundae. No matter which way you slice 'em, bananas are one of the best toppings for ice cream.
Fun and Unique Ice Cream Toppings 
Now that we've covered the best ice cream toppings in the classic category, let's explore some unique ice cream toppings and fun ice cream toppings that add variety and make everyone smile.
11. Chocolate Chips
Kicking off our list of fun ice cream fixings we have chocolate chips. You can either sprinkle them on top of your ice cream or use them as ice cream mix-ins. We find that mini-size chocolate chips work particularly well as mix-ins.
12. Peanut Butter Chips
Another one of our favorite things to put on ice cream is peanut butter chips. Sprinkle them on top or use them as ice cream mix-ins. Again, the miniature variety is preferred for mixing in. 
13. Welch's® Fruit 'n Yogurt™ Snacks 
Add a hint of fruity delight to your ice cream with Welch's® Fruit 'n Yogurt™ Snacks. These yummy snacks are the perfect guest-friendly choice for ice cream bars and ice cream socials. Bonus points: They're made with Real Fruit surrounded by Creamy Yogurt and feature an excellent source of Vitamins A & C, a good source of Vitamin D and Calcium, and contain no artificial flavors. They're available in Strawberry, Blueberry-Acai, and Mango-Peach.
14. Graham Cracker Crumbs
Continuing our roundup of unique ice cream toppings, we have crumbled graham crackers. To make a s'mores inspired sundae, top chocolate ice cream with marshmallow fluff, chocolate bits, and crumbled graham crackers. Yum!
If you're planning an ice cream party for kids or if you love getting creative with kid's birthday party themes, try this idea. Use finely ground graham cracker crumbs as a dusting of "sand" for a beach-themed ice cream cake or sundae.
15. Mini Marshmallows
Speaking of s'mores, mini marshmallows are also fun ice cream toppings to try. Use them in place of marshmallow fluff or marshmallow sauce if you prefer a little extra texture.
16. Candy
The only way to make ice cream sweeter is to add candy on top. When it comes to selecting great candy for ice cream, we like colorful coated chocolates, mini peanut butter cups, and chocolate toffee bars. Use whatever candy you like!
17. Pretzels
Are you a fan of salty-meets-sweet? Then you're sure to like this next idea on our list of ice cream toppings. Break up pretzels and sprinkle them on top of your ice cream for a savory crunch. Pretzels pair especially well with caramel-topped ice cream.
18. Chocolate Covered Pretzels
You can also try chocolate-covered pretzels for an extra dose of sweetness while still keeping that salty crunch. If you love unique ice cream toppings, chocolate covered pretzels will fit the bill.
19. Sugar Crystals
Sugar crystals are the best ice cream toppings to use if you're looking to add some drama to your dessert. They're basically a shimmery version of regular sprinkles and are always an aesthetically pleasing choice.
One of our favorite hacks is to take an ice cream sandwich and coat the vanilla sides in colorful sugar crystals. You can celebrate the season by using red and green for Christmas snacks; red, white & blue for July 4th snacks, and so on.
20. Cookies
Crumble up your favorite cookies and use them as toppings or ice cream mix-ins. Whether you go with chocolate chip cookies, peanut butter cookies, vanilla wafers, or any other type of cookie, you simply can't go wrong with this completely customizable option.
That wraps up our list of ice cream toppings! We hope you found some fun and unexpected options to suit every taste. Don't forget to elevate your next ice cream experience with delightfully fruity Welch's® Fruit 'n Yogurt™ Snacks. Enjoy!